American Vertigo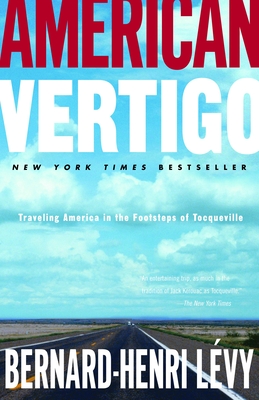 American Vertigo
Traveling America in the Footsteps of Tocqueville
Random House Trade, Paperback, 9780812974713, 308pp.
Publication Date: April 10, 2007
* Individual store prices may vary.
Shop Local
Enter your zip code below to find indies closest to you.
Description
What does it mean to be an American, and what can America be today? To answer these questions, celebrated philosopher and journalist Bernard-Henri Lévy spent a year traveling throughout the country in the footsteps of another great Frenchman, Alexis de Tocqueville, whose Democracy in America remains the most influential book ever written about our country.
The result is American Vertigo, a fascinating, wholly fresh look at a country we sometimes only think we know. From Rikers Island to Chicago mega-churches, from Muslim communities in Detroit to an Amish enclave in Iowa, Lévy investigates issues at the heart of our democracy: the special nature of American patriotism, the coexistence of freedom and religion (including the religion of baseball), the prison system, the "return of ideology" and the health of our political institutions, and much more. He revisits and updates Tocqueville's most important beliefs, such as the dangers posed by "the tyranny of the majority," explores what Europe and America have to learn from each other, and interprets what he sees with a novelist's eye and a philosopher's depth.
Through powerful interview-based portraits across the spectrum of the American people, from prison guards to clergymen, from Norman Mailer to Barack Obama, from Sharon Stone to Richard Holbrooke, Lévy fills his book with a tapestry of American voices–some wise, some shocking. Both the grandeur and the hellish dimensions of American life are unflinchingly explored. And big themes emerge throughout, from the crucial choices America
faces today to the underlying reality that, unlike the "Old World," America remains the fulfillment of the world's desire to worship, earn, and live as one wishes–a place, despite all, where inclusion remains not just an ideal but an actual practice.
At a time when Americans are anxious about how the world perceives them and, indeed, keen to make sense of themselves, a brilliant and sympathetic foreign observer has arrived to help us begin a new conversation about the meaning of America.
About the Author
Philosophe, ecrivain, Bernard-Henri Levy a ecrit, en 1979, au tout debut de sa carriere, Le Testament de Dieu. Il n'a cesse, depuis, de se referer a ce judaisme d'affirmation dont il avait, alors, pose les bases. Mais il n'avait jamais donne de suite a ce livre fondateur - pour sa generation et pour lui-meme.

CHARLOTTE MANDELL has translated over twenty books, including several books for Fordham: Peter Szendy's "Listen: A History of Our Ears" and Jean-Luc Nancy's "Listening". Her most recent translation is "The Kindly Ones" by Jonathan Littell.
Praise For American Vertigo…
"Bernard-Henry Lévy does nothing that goes unnoticed. He is an intellectual adventurer who brings publicity to unfashionable political causes."
–The New York Times