Left in Dark Times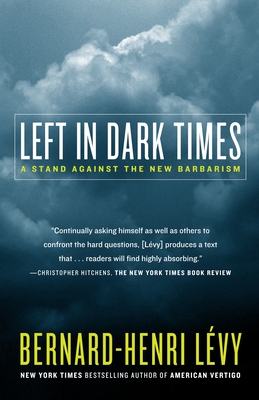 Left in Dark Times
A Stand Against the New Barbarism
Random House Trade, Paperback, 9780812974720, 233pp.
Publication Date: October 13, 2009
* Individual store prices may vary.
Buy at Local Store
Enter your zip code below to purchase from an indie close to you.
or
Buy Here
Description
In this unprecedented critique, Bernard-Henri Levy revisits his political roots, scrutinizes the totalitarianisms of the past as well as those on the horizon, and argues powerfully for a new political and moral vision for our times. Are human rights Western or universal? Does anti-Semitism have a future, and, if so, what will it look like? And how is it that progressives themselves those who in the past defended individual rights and fought fascism have now become the breeding ground for new kinds of dangerous attitudes: an unthinking loathing of Israel; an obsessive anti-Americanism; an idea of tolerance that, in its justification of Islamic fanaticism, for example, could become the cemetery of democracies; and an indifference, masked by relativism, to the greatest human tragedies facing the world today?
At a time of ideological and political transition in America, Left in Dark Times articulates the threats we all face in many cases without our even being aware of it and offers a powerful new vision for progressives everywhere.
About the Author
Apres des etudes au lycee Louis-le-Grand, puis a l'Ecole normale superieure ou il est l'eleve de Jacques Derrida et de Louis Althusser, B.-H.Levy enseigne l'epistemologie a l'universite de Strasbourg et la philosophie a l'Ecole normale superieure avant de devenir le chef de file du courant des 'Nouveaux Philosophes'. C'est la parution, en 1977, de 'La Barbarie a visage humain' chez Grasset qui cree le phenomene 'BHL'. Cet essai souleve des debats passionnes en faisant le proces du fascisme aussi bien que celui du marxisme. Editorialiste pour de nombreux journaux (dont Le Point), ecrivain prolifique et engage, Bernard-Henri Levy est accuse d'etre trop mediatique, mais son engagement et sa perseverance sont reconnus. En 2002, Jacques Chirac lui confie notamment la mission de se rendre en Afghanistan pour contribuer a la reconstruction culturelle. En 2006, il publie American Vertigo, ou il rassemble ses impressions et ses pensees a l'issue d'un periple de plusieurs mois aux USA. Descendu en flammes par la presse francaise, le livre est pourtant un succes, y compris aupres des intellectuels americains qui voient en lui des reflexions pertinentes sur leur pays.Pour decouvrir notre dossier sur les adaptations cinematographiques, "De l ecrit a l image", cliquez ici !

Benjamin Moser is the author of Why This World: A Biography of Clarice Lispector, which was a finalist for the National Book Critics' Circle Award, and is also the editor of a new translation of Clarice Lispector's work, of which this is the sixth volume . A former books columnist at Harper's Magazine, Moser is now a columnist at The New York Times Book Review, and is currently at work on the authorized biography of Susan Sontag. He lives in the Netherlands.
Praise For Left in Dark Times…
"[Lévy's] memories interlace with reflections on his long career of political activism . . . and are studded with passionately held positions on every issue current on the world stage. Whether or not you agree with him . . . you will be convinced of this: Ideas matter to him."—New York Observer

"Lévy offers as fine a description as you're likely to find anywhere of what the conventional international left . . . has adopted as its worldview. . . . [His] discussion of contemporary anti-Semitism is sophisticated, detailed and convincing."—Los Angeles Times

"Continually asking himself as well as others to confront the hard questions, [Lévy] produces a text that . . . readers will find highly absorbing."—New York Times Book Review

"Moving and inspiring . . . When political leaders commit atrocities, intellectuals remind the world of right and wrong. . . . Bernard-Henri Lévy, perhaps the most prominent intellectual in France today, seeks to revive this tradition of speaking truth to power."—Boston Globe