Siddhartha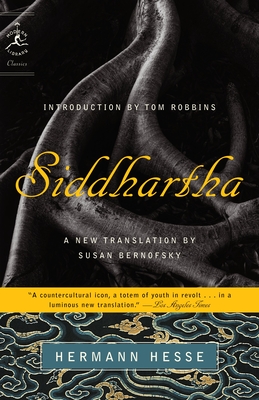 Siddhartha
Modern Library, Paperback, 9780812974782, 129pp.
Publication Date: December 4, 2007
* Individual store prices may vary.
Buy at Local Store
Enter your zip code below to purchase from an indie close to you.
or
Buy Here
Description
In the novel, "Siddhartha," a young man, leaves his family for a contemplative life, then, restless, discards it for one of the flesh. He conceives a son, but bored and sickened by lust and greed, moves on again. Near despair, Siddhartha comes to a river where he hears a unique sound. This sound signals the true beginning of his life -- the beginning of suffering, rejection, peace, and, finally, wisdom.
"From the Paperback edition.
About the Author
When this German novelist, poet, and essayist publicly denounced the savagery and hatred of World War I, he was considered a traitor. He moved to Switzerland where he eventually became a naturalized citizen. He warned of the advent of World War II, predicting that cultureless efficiency would destroy the modern world. His theme is the conflict between the elements of a person's dual nature and the problem of spiritual loneliness. His first novel, Peter Camenzind, was published in 1904. His masterpiece, Death and the Lover (1930), contrasts a scholarly abbot and his beloved pupil, who leaves the monastery for the adventurous world. Steppenwolf (1927), a European bestseller, was published when defeated Germany had begun to plan for another war. It is the story of Haller, who recognizes in himself the blend of the human and wolfish traits of the completely sterile scholarly project. Hesse won the Nobel Prize in 1946. During the 1960s Hesse became a favorite writer of the counter culture, especially in the United States, though his critical reputation has never equaled his popularity. Hermann Hesse died in 1962.

Susan Bernofsky is the acclaimed translator of Hermann Hesse, Robert Walser, and Jenny Erpenbeck, and the recipient of many awards, including the Helen and Kurt Wolff Prize and the Hermann Hesse Translation Prize. She teaches literary translation at Columbia University and lives in New York.

Tom Robbins was born in North Carolina in 1932 and raised in Virginia. A graduate of Virginia Commonwealth University, he moved to Seattle to do graduate work at the University of Washington. His internationally bestselling works include Still Life With Woodpecker, Fierce Invalids Home From Hot Climates, Jitterbug Perfume, Skinny Legs and All, Half Asleep in Frog Pajamas, Villa Incognito, and B Is For Beer. Robbins lives with his wife, Alexa D'Avalon, and their dog, Blini Tomato Titanium, in Washington State.