The Right Man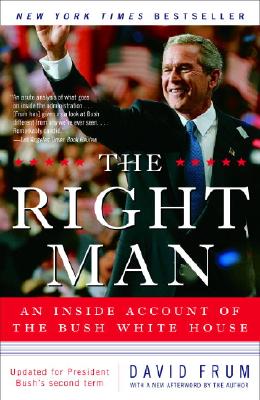 The Right Man
An Inside Account of the Bush White House
Random House Trade, Paperback, 9780812974904, 352pp.
Publication Date: January 18, 2005
* Individual store prices may vary.
Buy at Local Store
Enter your zip code below to purchase from an indie close to you.
or
Not Currently Available for Direct Purchase
Description
The Right Man" "is the first inside account of a historic year in the Bush White House, by the presidential speechwriter credited with the phrase "axis of evil." David Frum helped make international headlines when President George W. Bush's 2002 State of the Union address linked international terrorists to Iran, Iraq, and North Korea. But that was only one moment during a crucial time in American history, when a president, an administration, and a country were transformed.
Frum worked with President Bush in the Oval Office, traveled with him aboard Air Force One, and studied him closely at meetings and events. He describes how Bush thinks what this conservative president believes about religion, race, the environment, Jews, Muslims, and America's future. Frum takes us behind the scenes of one of the most secretive administrations in recent history, with revealing portraits of Karl Rove, Karen Hughes, Condoleezza Rice, and many others. Most significant, he tells the story of the transformation of George W. Bush: how a president whose administration began in uncertainty became one of the most decisive, successful, and popular leaders of our time.
Before becoming a White House speechwriter, David Frum was a highly regarded author of books and political commentary and an influential voice on the pages of "The Wall Street Journal" and "The Weekly Standard." His commentary has been described by William F. Buckley as the most refreshing ideological experience in a generation. Now, in "The Right Man, " we see Frum as a front-row observer and participant. Not since Peggy Noonan's account of her time in the Reagan White House has an insider portrayed a sitting president with such precision, verve, honest admiration, and insight.
The Right Man will command international attention for its thoughtful account of George W. Bush in the midst of his greatest challenge. It will be an essential reference for anyone seeking to understand who our president really is and how he is likely to lead us in the future.
"From the Hardcover edition.
About the Author
David Frum, a former special assistant to President George W. Bush, is a resident fellow at the American Enterprise Institute and a contributing editor of" National Review."
Richard Perle served as an assistant secretary of defense in the Reagan administration and as chairman of the Defense Policy Board under President George W. Bush. He is a resident fellow at the American Enterprise Institute.
Praise For The Right Man…
"George W. Bush was hardly the obvious man for the job. But by a very strange fate, he turned out to be, of all unlikely things, the right man." --from The Right Man, by David Frum