This Is Not Chick Lit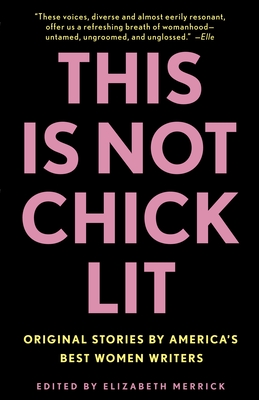 This Is Not Chick Lit
Original Stories by America's Best Women Writers
Random House Trade, Paperback, 9780812975673, 321pp.
Publication Date: August 1, 2006
* Individual store prices may vary.
Buy at Local Store
Enter your zip code below to purchase from an indie close to you.
or
Buy Here
Description
New short stories from Chimamanda Ngozi Adichie - Aimee Bender - Judy Budnitz - Jennifer S. Davis - Jennifer Egan - Carolyn Ferrell - Mary Gordon - Cristina Henriquez - Samantha Hunt -Binnie Kirshenbaum - Dika Lam - Caitlin Macy - Francine Prose - Holiday Reinhorn - Roxana Robinson - Curtis Sittenfeld - Lynne Tillman - Martha Witt

Chick lit: A genre of fiction that often recycles the following plot: Girl in big city desperately searches for Mr. Right in between dieting and shopping for shoes. Girl gets dumped (sometimes repeatedly). Girl finds Prince Charming.
This Is Not Chick Lit is a celebration of America's most dynamic literary voices, as well as a much needed reminder that, for every stock protagonist with a designer handbag and three boyfriends, there is a woman writer pushing the envelope of literary fiction with imagination, humor, and depth.
The original short stories in this collection touch on some of the same themes as chick lit-the search for love and identity-but they do so with extraordinary power, creativity, and range; they are also political, provocative, and, at turns, utterly surprising. Featuring marquee names as well as burgeoning talents, This Is Not Chick Lit will nourish your heart, and your mind.
"This Is Not Chick Lit is important not only for its content, but for its title. I'll know we're getting somewhere when equally talented male writers feel they have to separate themselves from the endless stream of fiction glorifying war, hunting and sports by naming an anthology This Is Not a Guy Thing."
-Gloria Steinem
"These voices, diverse and almost eerily resonant, offer us a refreshing breath of womanhood-untamed, ungroomed, and unglossed."-ELLE.
About the Author
Chimamanda Ngozi Adichie was born in Nigeria. Her first novel, Purple Hibiscus, won the Commonwealth Writers Prize and theHurston/Wright Legacy Award, was shortlisted for the Orange Prize andthe John Llewellyn Rhys Prize, and longlisted for the Booker. Her shortfiction has won the 2003 O. Henry Prize and has appeared in various literarypublications, including Granta and the Iowa Review. She is a2005/2006 Hodder Fellow at Princeton University and divides her timebetween the United States and Nigeria. Her second novel, Half of a YellowSun, will be published in September 2006. Aimee Bender is the author of three books, most recently the story collectionWillful Creatures. Her short fiction has been published inGranta, GQ, Harper's, The Paris Review, Tin House, and other publica-tions and has been heard on Public Radio International's This AmericanLife. She lives in Los Angeles. Judy Budnitz's stories have appeared in The New Yorker, Harper's, Story, The Paris Review, the Oxford American, Glimmer Train, Fence, andMcSweeney's. She is the recipient of an O. Henry Prize, and her debutcollection, Flying Leap, was a New York Times Notable Book in 1998.Budnitz is also the author of the novel If I Told You Once, which won theEdward Lewis Wallant Award, and was shortlisted for the Orange Prize inBritain. Her most recent book is the collection Nice Big American Baby.She lives in San Francisco. Jennifer S. Davis is the author of Her Kind of Want, winner of the2002 Iowa Award for Short Fiction. Her fiction has appeared in suchmagazines as the Oxford American, The Paris Review, Grand Street, andOne Story. Her new collection of short stories, Our Former Lives in Art, is forthcoming from Random House in spring 2007. Jennifer Egan is the author of the novels The Invisible Circus andLook at Me, which was a finalist for the National Book Award in 2001, and a short-story collection, Emerald City. Her short stories have appearedin The New Yorker, Harper's, and McSweeney's, among otherpublications. Also a journalist, she writes frequently for The New YorkTimes Magazine. Her new novel, The Keep, will be published in August2006. Carolyn Ferrell is the author of the short-story collection Don'tErase Me, which won the Art Seidenbaum Award for First Fiction, theJohn C. Zacharis First Book Award, given by Ploughshares, and the NewVoices Award from Quality Paperback Book Club. Her stories have beenpublished in several anthologies, including The Best American Short Storiesof the Century, edited by John Updike, and Children of the Night: The Best Short Stories by Black Writers, 1967 to the Present, edited byGloria Naylor. A recipient of a National Endowment for the Arts fellowship, Ferrell teaches at Sarah Lawrence College. She lives in the Bronxwith her husband and two children. Mary Gordon's novels include Pearl, Spending, The Company ofWomen, The Rest of Life, and The Other Side. She is also the author of thememoir The Shadow Man, among other works of nonfiction. She has receiveda Lila Wallace-Reader's Digest Award, a Guggenheim Fellowship, and the 1997 O. Henry Award for best story. She teaches at Barnard Collegeand lives in New York City. Cristina Henriquez is the author of the short-story collection ComeTogether, Fall Apart. She is a graduate of the Iowa Writers' Workshop, and her fiction has appeared in The New Yorker, Ploughshares, GlimmerTrain, TriQuarterly, and AGNI. She was featured in Virginia QuarterlyReview as one of "Fiction's New Luminaries." She lives in Dallas withher husband. Samantha Hunt is a writer and artist from New York. She is the authorof The Seas and the forthcoming novel The Invention of Everything Else.Her stories have appeared in The New Yorker, McSweeney's, Cabinet, andSeed Magazine and have been heard on Public Radio International's ThisAmerican Life. Hunt teaches writing at the Pratt Institute in Brooklyn. Binnie Kirshenbaum is the author of two story collections, MarriedLife and History on a Personal Note, and five novels, On MermaidAvenue, Pure Poetry, A Disturbance in One Place, Hester Among theRuins, and An Almost Perfect Moment. She is a professor at ColumbiaUniversity, Graduate School of the Arts. Dika Lam was born in Canada and lives in Brooklyn. She was a NewYork Times Fellow in the MFA program at New York University, and herwork has appeared in Scribner's Best of the Fiction Workshops 1999, Story, One Story, Failbetter.com, and elsewhere. The first chapter of her novel-in-progress won the 2005 Bronx Writers' Center Chapter One contest. Caitlin Macy is the author of the novel The Fundamentals of Play andis at work on a collection of short stories. Her short fiction has appearedin The New Yorker and she is the recipient of a 2005 O. Henry Prize. Shelives with her family in London. Francine Prose is the author of fourteen books of fiction, including, most recently, A Changed Man and Blue Angel, which was a finalist forthe National Book Award. Her nonfiction includes the national bestsellerThe Lives of the Muses: Nine Women and the Artists They Inspiredand Caravaggio: Painter of Miracles. Her next book, Reading Like aWriter, will be out in summer 2006 from HarperCollins. A recipient ofnumerous grants and awards, among them Guggenheim and Fulbrightfellowships, Prose was a Director's Fellow at the Center for Scholars andWriters at the New York Public Library. She lives in New York City. Holiday Reinhorn lives in Los Angeles. Her debut collection of shortstories, Big Cats, was named one of the best books of 2005 by the SanFrancisco Chronicle. She is a recipient of the Tobias Wolff Award for Fictionand a Carl Djerassi Fiction Fellowship from the Creative WritingInstitute at the University of Wisconsin/Madison. Reinhorn's storieshave appeared in Zoetrope, Tin House, Ploughshares, and Columbia, among other publications. She is currently at work on a novel. Roxana Robinson is the author of seven books: three novels, threeshort-story collections, and a biography of Georgia O'Keeffe. Her mostrecent book is the collection A Perfect Stranger. Robinson was named aLiterary Lion by the New York Public Library and has received fellowshipsfrom the National Endowment for the Arts and the GuggenheimFoundation. Four of her books were named Notable Books of the Yearby The New York Times. Her work has appeared in The New Yorker, TheAtlantic, Harper's, One Story, Daedalus, Best American Short Stories, The New York Times, and elsewhere. She lives in New York City andteaches at the New School. Curtis Sittenfeld's first novel, Prep, was a national bestseller. Chosenas one of the Ten Best Books of 2005 by The New York Times, it willbe published in twenty-three foreign countries, and its film rights havebeen optioned by Paramount Pictures. Her second novel, The Man ofMy Dreams, was published by Random House in May 2006. Sittenfeld'snonfiction has appeared in The New York Times, The Atlantic, Salon, Allure, Glamour, and on Public Radio International's This American Life. Lynne Tillman's last novel, No Lease on Life, was a finalist for the NationalBook Critics Circle Award for fiction and a New York Times NotableBook of the Year. Her most recent book is This Is Not It, a collection ofstories and novellas. Her new novel American Genius: A Comedy will bepublished by Soft Skull Press in October 2006. Tillman is a fellow of theNew York Institute of the Humanities and a recent recipient of aGuggenheim Fellowship. Martha Witt is the author of the novel Broken as Things Are. Her shortfiction and translations are included in the anthologies Post-War ItalianWomen Writers and The Literature of Tomorrow. She is a recipient ofa Thomas J. Watson Traveling Fellowship, a Spencer Fellowship, aWalter E. Dakin Fellowship, and a New York Times Fellowship, as wellas residencies at the Yaddo and Ragdale artist colonies. Originally fromHillsborough, North Carolina, she now lives in New York City with herhusband and two children
Praise For This Is Not Chick Lit…
"These voices, diverse and almost eerily resonant, offer us a refreshing breath of womanhood-untamed, ungroomed, and unglossed."-ELLE