Nancy Culpepper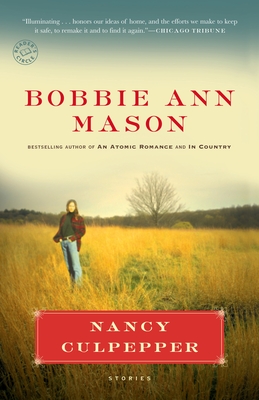 Nancy Culpepper
Random House Trade, Paperback, 9780812976670, 235pp.
Publication Date: August 14, 2007
* Individual store prices may vary.
Shop Local
Enter your zip code below to find indies closest to you.
Description
Kentucky native Nancy Culpepper boldly left home to attend school in Massachusetts, married a Yankee, and raised her son in the Northeast. "One day I was feeding chickens and listening to Hank Williams and the next day I was expected to know what wines went with what," she tells her husband, Jack. Yet no matter where she travels, her rural southern heritage is never far from her thoughts, her habits, and her heart.

Nancy is on a lifelong quest to understand her place in the world. Returning home to the family farm, she searches for photographic evidence of an ancestor bearing her own name. Still in her jeans, she brings home strange ideas and an assertiveness she learned up north.
Always adventurous, Nancy travels far and wide–searching, seeking. The narrative sweep of her life traverses the turbulent sixties, the Vietnam War, the eighties and the foreboding death of John Lennon, and finally the new millennium–when a self-assured Nancy finally emerges. These humorous and often touching stories recount her courtship and marriage to Jack, her relationship with her precocious son, and the deep, loving bond between her parents, Spence and Lila Culpepper. Eventually Nancy's marriage is threatened by a cultural divide that plagued her and Jack from the start. But when she inherits the Culpepper family farm and discovers more pieces of her ancestral puzzle, she realizes that her life is assuming its proper shape. Later, standing on a lonely mountain in England, she sees the world from a surprising perspective.

Bestselling author Bobbie Ann Mason's prizewinning Nancy Culpepper chronicles have appeared in The New Yorker, The Boston Globe, The Southern Review, and other distinguished literary anthologies. She has compiled these stories into one definitive collection, which includes the novella Spence + Lila, two new, never-before-published stories, and one Pushcart Prize winner. Heartfelt and thought-provoking, Nancy Culpepper is a poignant depiction of change and growth in a modern-day heroine.
About the Author
Bobbie Ann Mason's first short stories were published in The New Yorker, and were then included in her first book of fiction, Shiloh & Other Stories (1982). The collection won the PEN/ Hemingway Award and was nominated for the American Book Award, the PEN/ Faulkner Award, and the National Book Critics Circle Award. She received a Guggenheim Fellowship and a grant from the National Endowment for the Arts, and she received an Award for Literature from the American Academy of Arts and Letters. Her first novel, In Country (2001), is taught widely in classes and was made into a film starring Bruce Willis and Emily Lloyd. Both Feather Crowns (1994) and Zigzagging Down a Wild Trail (2001) won the Southern Book Critics Circle Award. Her memoir, Clear Springs: A Family History (2000), was a finalist for the Pulitzer Prize. Mason belongs to the Authors Guild, PEN, and the Fellowship of Southern Writers. She is former writer-in-residence at the University of Kentucky. Her most recent book, The Girl in the Blue Beret, was released in 2011.