The Prince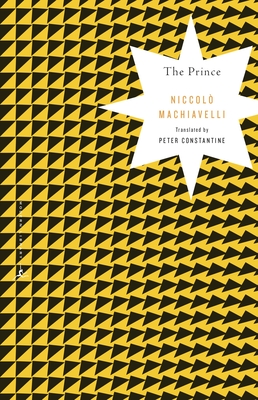 The Prince
Modern Library, Paperback, 9780812978056, 126pp.
Publication Date: February 5, 2008
* Individual store prices may vary.
Shop Local
Enter your zip code below to find indies closest to you.
Description
A new translation by Peter Constantine
Introduction by Albert Russell Ascoli
The first modern treatise of political philosophy, "The Prince" is one of the world's most influential and widely read books. Machiavelli reveals nothing less than the secrets of power: how to gain it, how to wield it, and how to keep it. Ruthless, cunning, and amoral, "The Prince" is a controversial analysis of manipulation and an essential guide for anyone interested in conquest, self-defense, or observation of dominance and control. The Introduction by noted Italian Renaissance scholar Albert Russell Ascoli provides a perfect opening to Peter Constantine's illuminating new translation of this seminal work.
Constantine elegantly captures in English the pith of Machiavelli's brilliant Italian prose. Edward Muir, Clarence L. Ver Steeg Professor in the Arts and Sciences, Northwestern University.
About the Author
Niccolo Machiavelli was an Italian politician, diplomat, founding father of political science, and author of the preeminent political treatise, The Prince. Born in Florence, Italy, Machiavelli held many government posts over his lifetime and often took leading roles in important diplomatic missions. During his time visiting other countries and nation states, Machiavelli was exposed to the politics of figures like Ceasare Borgia and King Louis XII, experiences which would inform his writings on state-building and politics. Machiavelli s political career came to an abrupt end when the Medici overthrew Florence, and he was held as a prisoner under the new regime. Tortured for a short time, he was released without admitting to any crime or treason. At this point, Machiavelli retired and turned to intellectual and philosophical pursuits, producing his two major works, The Prince and Discourses on the First Ten Books of Titus Livy. He died in 1527 at the age of 58.

Isaac Babel was a journalist, playwright, and short story writer, whose works include the Russian masterpieces Red Cavalry and The Odessa Tales. He was arrested and executed in a Soviet prison in 1940.

Albert Russell Ascoli is Gladyce Arata Terrill Distinguished Professor at the University of California, Berkeley. His publications include Ariosto's Bitter Harmony: Crisis and Evasion in the Italian Renaissance (1987), Making and Remaking Italy: The Cultivation of National Identity around the Risorgimento (co-edited with Krystyna von Henneberg, 2001), Dante and the Making of a Modern Author (Cambridge University Press, 2008) and A Local Habitation, and a Name: Imagining Histories in the Italian Renaissance (2011). He is co-founder and volume editor of the electronic journal, California Italian Studies.
Praise For The Prince…
"Constantine elegantly captures in English the pith of Machiavelli's brilliant Italian prose."—Edward Muir, Clarence L. Ver Steeg Professor in the Arts and Sciences, Northwestern University