Beyond Fundamentalism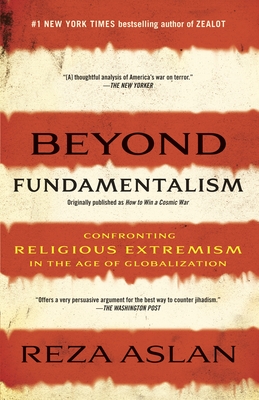 Beyond Fundamentalism
Confronting Religious Extremism in the Age of Globalization
Random House Trade, Paperback, 9780812978308, 225pp.
Publication Date: April 6, 2010
* Individual store prices may vary.
Buy at Local Store
Enter your zip code below to purchase from an indie close to you.
or
Buy Here
Description
The wars in the Middle East have become religious wars in which God is believed to be directly engaged on behalf of one side against the other. The hijackers who attacked America on September 11, 2001, thought they were fighting in the name of God. According to award-winning writer and scholar of religions Reza Aslan, the United States, by infusing the War on Terror with its own religiously polarizing rhetoric, is fighting a similar war--a war that can't be won.
Beyond Fundamentalism is both an in-depth study of the ideology fueling al-Qa'ida, the Taliban, and like-minded militants throughout the Muslim world and an exploration of religious violence in Judaism, Christianity, and Islam. At a time when religion and politics increasingly share the same vocabulary and function in the same sphere, Aslan writes that we must strip the conflicts of our world of their religious connotations and address the earthly grievances that always lie at its root.
How do you win a religious war? By refusing to fight in one.

Featuring new content and updated analysis
Originally published as How to Win a Cosmic War

About the Author
Reza Aslan is assistant professor of creative writing at the University of California, Riverside, and Senior Fellow at the Orfalae Center for Global and International Studies at U.C. Santa Barbara. His first book, No god but God, has been translated into thirteen languages and was short-listed for the Guardian First Book Award. "From the Hardcover edition."
Praise For Beyond Fundamentalism…
"[A] thoughtful analysis of America's War on Terror."
—The New Yorker
 
"Offers a very persuasive argument for the best way to counter jihadism."
—The Washington Post

"[Reza] Aslan dissects a complex subject (terrorism and globalization) and distills it with a mix of narrative writing, personal anecdotes, reportage and historical analysis."
—San Francisco Chronicle

"Aslan is not only a perspicuous, thoughtful interpreter of the Muslim world but also a subtle psychologist of the call to jihad."
—Los Angeles Times
 
"[A] meaty analysis of the rise of Jihadism . . . dispels common misconceptions of the War on Terror age."
—San Jose Mercury News
 
"It is Aslan's great gift to see things clearly, and to say them clearly, and in this important new work he offers us a way forward. He is prescriptive and passionate, and his book will make you think."
—Jon Meacham, Pulitzer Prize–winning author of American Lion