Being a Teen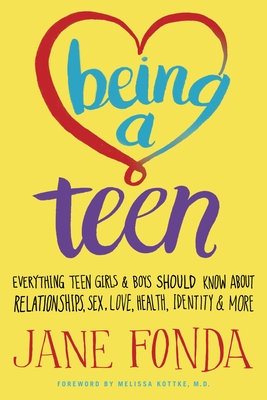 Being a Teen
Everything Teen Girls & Boys Should Know about Relationships, Sex, Love, Health, Identity & More
Random House Trade, Paperback, 9780812978612, 253pp.
Publication Date: March 4, 2014
* Individual store prices may vary.
Buy at Local Store
Enter your zip code below to purchase from an indie close to you.
or
Buy Here
Description
"NEW YORK TIMES "BESTSELLER - AN ALL-ENCOMPASSING GUIDE THAT PARENTS WILL WANT FOR THEIR TEENS
This thorough, concise guide offers straight talk about:
- The male and female body as it changes and matures.
- Teen relationships: what it takes to create happy, supportive, positive, and meaningful connections with family, friends, and others.
- Identity empowerment: how to be authentic and thrive in today's world.
- Sex and sexuality for boys and girls: how teens should take care of their bodies, embrace their experiences, and strengthen self-esteem.
- Strategies for working through the toughest challenges, including bullying, sexual abuse, eating disorders, pregnancy, and more.
Praise for "Being a Teen"
"A frank and candid resource for adolescents."--"People"
" "
"Fonda's warmth and love for the teen community is evident."--"Publishers Weekly"
" "
"Clear, practical, and riveting, "Being a Teen" cuts away at myth, enhances teens' self-esteem, and arms them with a trove of useful information. Beautifully organized . . . Any parent, teacher, coach, or doctor needs to read this authoritative guide. What a lifesaver for our boys and girls "--William S. Pollack, PhD, author of the international bestseller "Real Boys" and Associate Clinical Professor, Department of Psychiatry at Harvard Medical School
""Being a Teen" should be in the hands of every teen in the world. It is a myth-busting, fact-filled treasure full of life information all teens want and need to know."--Christiane Northrup, M.D., "New York Times" bestselling author of "Women's Bodies, Women's Wisdom"
"Clear, unflinching, and nonjudgmental . . . a reliable guide to the turbulent physical and social transitions of adolescence."--Michael Kimmel, Distinguished Professor of Sociology and Gender Studies, Stony Brook University, and author of "Guyland"
" "
"A comprehensive, honest, fun-to-read book for today's teenagers. This delightful book will be used again and again."--The Reverend Debra W. Haffner, president, Religious Institute, and author of" From Diapers to Dating"
"Detailed, accurate and practical . . . an excellent resource."--Paul Kivel, author of "Boys Will Be Men.
About the Author
JANE FONDA was born in New York City in 1937. She attended the Emma Willard School in Troy, New York, and Vassar College. Fonda later studied with renowned acting coach Lee Strasberg and became a member of the Actors Studio in New York. Her subsequent work on stage and screen earned numerous honors, including two Best Actress Academy Awards-"Klute "(1971) and "Coming Home" (1978)-and an Emmy Award for her performance in The Dollmaker. Fonda was also a successful producer, whose credits include "The China Syndrome," "Nine to Five," O"n Golden Pond, "and "The Morning After,"
Fonda revolutionized the fitness industry with the release of Jane Fonda's Workout in 1982, which remains the top-grossing home video of all time. She then produced twenty-three home exercise videos, thirteen audio recordings, and five bestselling books. She now focuses her time on activism and philanthropy, in such areas as adolescent reproductive health, pregnancy prevention, school reform through arts, and building resiliency in girls and boys by addressing destructive gender stereotypes. In 1995 she founded the Georgia Campaign for Adolescent Pregnancy Prevention (G-CAPP), which she chairs. In 2002, she opened the Jane Fonda Center for Adolescent Reproductive Health at Emory University's School of Medicine. She lives in Atlanta.
"From the Hardcover edition."
Praise For Being a Teen…
"A frank and candid resource for adolescents."—People
 
"Fonda's warmth and love for the teen community is evident."—Publishers Weekly
 
"Clear, practical, and riveting, Being a Teen cuts away at myth, enhances teens' self-esteem, and arms them with a trove of useful information. Beautifully organized . . . Any parent, teacher, coach, or doctor needs to read this authoritative guide. What a lifesaver for our boys and girls!"—William S. Pollack, PhD, author of the international bestseller Real Boys and Associate Clinical Professor, Department of Psychiatry at Harvard Medical School

"Being a Teen should be in the hands of every teen in the world. It is a myth-busting, fact-filled treasure full of life information all teens want and need to know."—Christiane Northrup, M.D., New York Times bestselling author of Women's Bodies, Women's Wisdom
 
"Clear, unflinching, and nonjudgmental . . . a reliable guide to the turbulent physical and social transitions of adolescence."—Michael Kimmel, Distinguished Professor of Sociology and Gender Studies, Stony Brook University, and author of Guyland
 
"A comprehensive, honest, fun-to-read book for today's teenagers. This delightful book will be used again and again."—The Reverend Debra W. Haffner, president, Religious Institute, and author of From Diapers to Dating

"Detailed, accurate and practical . . . an excellent resource."—Paul Kivel, author of Boys Will Be Men