No Time to Wave Goodbye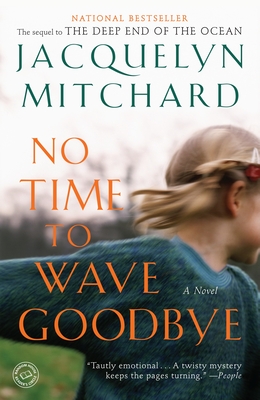 No Time to Wave Goodbye
Random House Trade, Paperback, 9780812979572, 236pp.
Publication Date: May 4, 2010
* Individual store prices may vary.
Buy Now
or
Shop Local
Enter your zip code below to purchase from an indie close to you.
Description
Twenty-two years have passed since Beth Cappadora's three-year-old son, Ben, was abducted. By some miracle he returned nine years later, and the family began to pick up the pieces of their lives.
Now, in this sequel to Mitchard's beloved bestseller The Deep End of the Ocean, the Cappadora children are grown: Ben is married and has a baby girl, Kerry is studying to be an opera singer, and ne'er-do-well older son Vincent is a fledgling filmmaker. His new documentary—focusing on five families caught in the torturous web of never knowing the fate of their abducted children—shakes his parents to the core. As Vincent's film earns greater and greater acclaim and Beth tries to stave off a torrent of long-submerged emotions, the Cappadoras' world is rocked as Beth's greatest fear becomes reality. The family is soon drawn precipitously into the past, revisiting the worst moment of their lives—this time with only hours to find the truth that can save a life.

A spellbinding novel about family loyalty and love pushed to the limits of endurance, No Time to Wave Goodbye is Jacquelyn Mitchard at her best.
About the Author
"New York Times" bestselling author Jacquelyn Mitchard has written many novels for adults, including "Two If by Sea". She has also written young adult novels; children s books; a memoir, "Mother Less Child;" and a collection of essays, " The Rest of Us" "Dispatches from the Mother Ship". Her first novel, "The Deep End of the Ocean", was the inaugural selection of the Oprah Winfrey Book Club, later adapted for a feature film starring and produced by Michelle Pfeiffer. Mitchard is the editor in chief and co-creator of Merit Press and a professor of fiction and creative nonfiction at Vermont College of Fine Arts in Montpelier. She lives on Cape Cod with her husband and their nine children.
Praise For No Time to Wave Goodbye…
"Jacquelyn Mitchard has done it again.  In this masterful sequel to her blockbuster bestseller, The Deep End of the Ocean, she captivates us once more, revisiting characters so human, so flawed, that their angst becomes ours.  As the best of intentions go awry, the reader is drawn into an adventure so gripping that only a storyteller of Ms. Mitchard's stature can resolve it with meaning and grace.  Prepare for a climax that will capture your heart in this powerful story of reconciliation and redemption."—Barbara Delinsky, author of While My Sister Sleeps

"For everyone who adored The Deep End of the Ocean–rejoice! Mitchard's latest brings back the Cappadora family, as the most unexpected of tragedies forces them to test the relationships they've built in the wake of Ben's return. It's vintage Mitchard: full of characters you feel like you already know, and a plot that keeps you reading till the last page."—Jodi Picoult, author of Handle with Care

"No Time to Wave Goodbye is a bold, brilliant, powerhouse of a novel. I read it in one sitting, unable to walk away until I'd come to the startling and unexpected end.  A dramatic tale of heartbreak and triumph,  No Time to Wave Goodbye is a beautifully written story about a scarred and broken family facing old wounds and a terrifying new tragedy with grace and strength.  Jacquelyn Mitchard has done the impossible: written a sequel to her blockbuster Deep End of the Ocean that has all the richness, emotional impact, and relevance of the original.  All I can say is, once you start this novel, I hope you have nothing else to do, because you won't be able to put it down.—Kristen Hannah, author of True Colors

"Jacquelyn Mitchard has created something so indelible, so unforgettable, in the Cappadora family that I was honored and excited to be given this second glimpse into their life experience. I would have followed them anywhere."—Catherine Ryan Hyde, author of Pay it Forward

"Few writers wield prose as masterfully as Jacquelyn Mitchard, and her latest novel No Time to Wave Goodbye proves she has only grown more powerful. Hauntingly lyrical yet blisteringly real and intense, this sequel to The Deep End of the Ocean will leave you gasping until the very last page. I read this book in one sitting, and once done, I wanted to read it all over again, word by word, line by line, in awe of her talent."— James Rollins, author of The Doomsday Key

"The Cappadora family is back, in all of its wonderful complexity. When tragedy strikes a second time, they respond in the same imperfect, human, and utterly believable manner that has made them one of the most astutely rendered and memorable families in contemporary fiction. Once again, they rise above being victims of circumstance to teach us lessons about fortitude and grace. Jacquelyn Mitchard has created a new page-turner of a family odyssey. Its emotions linger long after the last paragraph is read."—Hope Edelman, author of The Possibility of Everything

"No Time to Wave Goodbye hits all the right notes. The story is gripping, suspenseful and downright good; a beautiful reminder of why the world loves Jacquelyn Mitchard."—Karin Slaughter, author of Undone

"If at its best a family is a safety net, what happens when the net unravels? Jacquelyn Mitchard's novel, No Time To Wave Goodbye, examines a family victimized. She doesn't sidestep considering the impact of ambiguous rescues or uncertain recoveries. Racing, taut, rich in tension and tenderness."—Gregory Maguire, author of Wicked

"In No Time to Wave Goodbye, Jacquelyn Mitchard reminds us that both sadness and happiness are fleeting, that families come apart and together in surprising ways, and that the power of love is stronger than we know. This book makes me proud to be human, with all our glorious flaws."—Ann Hood, author of The Knitting Circle