Love Stories in This Town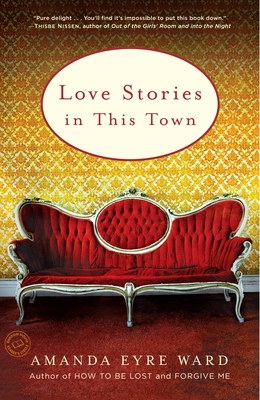 Love Stories in This Town
Ballantine Books, Paperback, 9780812980110, 205pp.
Publication Date: April 7, 2009
* Individual store prices may vary.
Buy at Local Store
Enter your zip code below to purchase from an indie close to you.
or
Not Currently Available for Direct Purchase
Description
From San Francisco to Savannah, Montana to Texas, Amanda Eyre Ward's characters are united in their fervent search to find a place where they truly belong. Annie, a librarian in a small mining town, must choose between the only home she's ever known and the possibility of a new future. Casey, a suburban New Yorker with a wry sense of humor, braves the dating scene after losing her husband. And in six linked stories spanning a decade of her life, Lola Wilkerson navigates elopement, motherhood, and lingering questions about who she wants to be when she grows up. Whether exploring the fierceness of a mother's love or the consolations of marriage, Amanda Eyre Ward's stories are imbued with humor, clear-eyed insight, and emotional richness.
About the Author
Amanda Eyre Ward was born in New York City and graduated from Williams College and the University of Montana. Her short stories have been published in Story Quarterly, Mississippi Review, New Delta Review, Salon.com, and Austin Chronicle. Ward is a regular contributor to the Austin Chronicle. This is her first novel.
Praise For Love Stories in This Town…
"Pure delight . . . You'll find it's impossible to put this book down."—Thisbe Nissen, author of Out of the Girls' Room and Into the Night

"Dazzling . . . Amanda Eyre Ward proves once again that she knows just where to strike: the heart, the mind, and the funny bone."—Michelle Richmond, bestselling author of No One You Know

"Wisecracking, whip-smart, and utterly beguiling, Amanda Eyre Ward's Love Stories in This Town is one part Chekhov, one part Patsy Cline, all told with a confident, hip-cocking charm that's completely her own."—Justin Cronin, author of The Summer Guest

"Though the sharp-witted young women in these beautiful stories all live in the present day, their struggles for love and family are the stuff of classic literature."—Vendela Vida, author of Let the Northern Lights Erase Your Name

"Looking at contemporary life through Ward's eyes, you are suddenly aware of just how strange and mysterious our supposedly ordinary lives have become."—Dan Chaon, author of Among the Missing

"Ward has a heart for women, as all of her previous work will attest; these stories underscore that fact. Where issues of domesticity and maternity are often dismissed or idealized in the cultural imagination, Ward here makes an argument for how very important such matters are with characters written so intricately and carefully that they are very nearly real themselves, in all their ambivalence and agony....This is Ward's gift: She makes writing about being human and female look easy while simultaneously inviting empathy for the female experience in these complicated times."—Austin Chronicle

"(Starred) In her first collection, novelist Ward (Forgive Me, 2008, etc.) gently and discreetly invites us into her characters' lives…. Luminous work from a gifted writer."—Kirkus Reviews, starred review

"New mothers, young brides, jilted lovers, devoted wives. What roles do women choose, what paths do they take when falling in and out of love? Even if the way is clearly marked, it can still be full of unseen opportunities and obstacles, as Ward so adroitly demonstrates in a collection of 12 lustrous short stories....A mesmerizing, read-in-one-sitting foray into the complexities of contemporary love."—Booklist

"Ward's powerful first collection (after three novels) travels from Montana to Saudi Arabia, tackling love, terrorism and grave matters of the heart…. The way Ward balances ruefulness and hope is singularly impressive."—Publishers Weekly