Panorama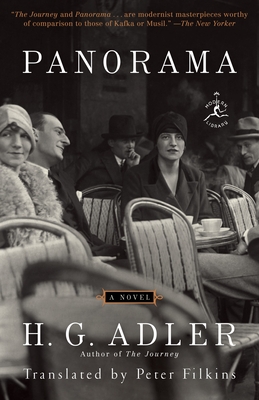 Panorama
Modern Library, Paperback, 9780812980608, 480pp.
Publication Date: January 10, 2012
* Individual store prices may vary.
Buy Now
or
Shop Local
Enter your zip code below to purchase from an indie close to you.
Description
Only recently available for the first time in English, "Panorama" is the newly rediscovered first novel of H. G. Adler, a modernist master whose work has been compared to that of Kafka, Joyce, and Solzhenitsyn. A brilliant epic told in ten distinct vignettes, "Panorama" is a portrait of a place and people soon to be destroyed, as seen through the eyes of the young Josef Kramer. It moves from the pastoral World War I era Bohemia of Josef's youth, to a German boarding school full of creeping prejudice, through an infamous extermination camp, and finally to Josef's self-imposed exile abroad, achieving veracity and power through a stream-of-consciousness style reminiscent of our greatest modern masters. The author of six novels as well as the monumental account of his experiences in a Nazi labor camp, "Theresienstadt 1941 1945, "H. G. Adler is an essential author with unique historical importance. "Panorama" is lasting evidence of both the torment of his life and the triumph of his gifts.
About the Author
H. G. Adler (1910 88), poet, novelist, and scholar, was deported with his family to the Theresienstadt Ghetto in 1942. From there, they were moved to Auschwitz and then to the outlying camps of Buchenwald. Eighteen members of his family, including his first wife Gertrud Klepetar, perished in the camps. He returned to his birthplace of Prague in 1945, and then went into voluntary exile in the United Kingdom in 1947, where he wrote a total of twenty-seven books, including the celebrated Holocaust novels The Journey, Panorama, and The Wall. He received several prizes for his work, including the Leo Baeck Prize for Theresienstadt, 1941 1945.

Peter Filkins is a poet and teaches literature at Bard College at Simon's Rock.

Peter Demetz, Professor Emeritus of German and Comparative Literature at Yale University, was born in Prague.

Praise For Panorama…
"The Journey and Panorama . . . are modernist masterpieces worthy of comparison to those of Kafka or Musil."—The New Yorker
 
"Haunting . . . as remarkable for its literary experimentation as for its historical testimony."—San Francisco Chronicle
 
"Panorama should have been the brilliant debut of a major German writer. . . . It's hard to fathom why we had to wait so long. . . . Under any circumstances, let alone such harsh ones, his accomplishments would be remarkable."—The New York Times Book Review (Editor's Choice)
 
"Astonishing . . . Works such as Solzhenitsyn's One Day in the Life of Ivan Denisovich, Primo Levi's If This Is a Man and H. G. Adler's . . . Panorama draw the strength of their narrative from direct memory."—Simon Schama, Financial Times
 
"[A] stirring novel . . . expertly and elegantly translated by Peter Filkins."—Los Angeles Times