Public Enemies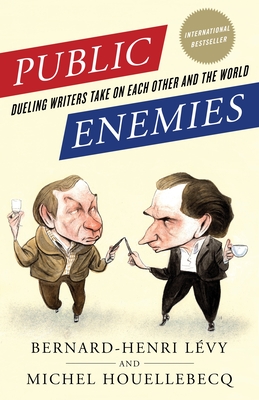 Public Enemies
Dueling Writers Take on Each Other and the World
Random House Trade, Paperback, 9780812980783, 309pp.
Publication Date: January 11, 2011
* Individual store prices may vary.
Buy at Local Store
Enter your zip code below to purchase from an indie close to you.
or
Buy Here
Description
The international publishing sensation is now available in the United States two brilliant, controversial authors confront each other and their enemies in an unforgettable exchange of letters.
In one corner, Bernard-Henri Levy, creator of the classic "Barbarism with a Human Face, " dismissed by the media as a wealthy, self-promoting, arrogant do-gooder. In the other, Michel Houellebecq, bestselling author of "The Elementary Particles, " widely derided as a sex-obsessed racist and misogynist. What began as a secret correspondence between bitter enemies evolved into a remarkable joint personal meditation by France's premier literary and political live wires. An instant international bestseller, "Public Enemies" has now been translated into English for all lovers of superb insights, scandalous opinions, and iconoclastic ideas.
In wicked, wide-ranging, and freewheeling letters, the two self-described whipping boys debate whether they crave disgrace or secretly have an insane desire to please. Levy extols heroism in the face of tyranny; Houellebecq sees himself as one who would fight little and badly. Levy says life does not live unless he can write; Houellebecq bemoans work as leaving him in such a state of nervous exhaustion that it takes several bottles of alcohol to get out. There are also touching and intimate exchanges on the existence of God and about their own families.
Dazzling, delightful, and provocative, "Public Enemies" is a death match between literary lions, remarkable men who find common ground, confident that, in the end (as Levy puts it), it is we who will come out on top.
About the Author
Apres des etudes au lycee Louis-le-Grand, puis a l'Ecole normale superieure ou il est l'eleve de Jacques Derrida et de Louis Althusser, B.-H.Levy enseigne l'epistemologie a l'universite de Strasbourg et la philosophie a l'Ecole normale superieure avant de devenir le chef de file du courant des 'Nouveaux Philosophes'. C'est la parution, en 1977, de 'La Barbarie a visage humain' chez Grasset qui cree le phenomene 'BHL'. Cet essai souleve des debats passionnes en faisant le proces du fascisme aussi bien que celui du marxisme. Editorialiste pour de nombreux journaux (dont Le Point), ecrivain prolifique et engage, Bernard-Henri Levy est accuse d'etre trop mediatique, mais son engagement et sa perseverance sont reconnus. En 2002, Jacques Chirac lui confie notamment la mission de se rendre en Afghanistan pour contribuer a la reconstruction culturelle. En 2006, il publie American Vertigo, ou il rassemble ses impressions et ses pensees a l'issue d'un periple de plusieurs mois aux USA. Descendu en flammes par la presse francaise, le livre est pourtant un succes, y compris aupres des intellectuels americains qui voient en lui des reflexions pertinentes sur leur pays.Pour decouvrir notre dossier sur les adaptations cinematographiques, "De l ecrit a l image", cliquez ici !

Michel Houellebecq is a French novelist, poet, and literary critic. His novels include the international bestseller "The Elementary Particles" and "The Map and the Territory", which won the 2010 Prix Goncourt. He lives in France.