Beatrice and Virgil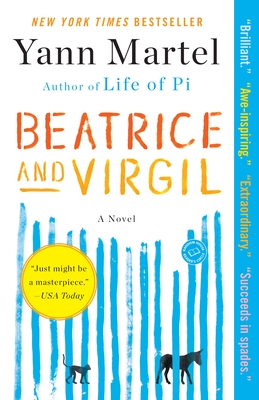 Beatrice and Virgil
Spiegel & Grau, Paperback, 9780812981544, 226pp.
Publication Date: February 22, 2011
* Individual store prices may vary.
Buy at Local Store
Enter your zip code below to purchase from an indie close to you.
or
Buy Here
Description
When Henry receives a letter from an elderly taxidermist, it poses a puzzle that he cannot resist. As he is pulled further into the world of this strange and calculating man, Henry becomes increasingly involved with the lives of a donkey and a howler monkey--named Beatrice and Virgil--and the epic journey they undertake together. With all the spirit and originality that made Life of Pi so beloved, this brilliant new novel takes the reader on a haunting odyssey. On the way Martel asks profound questions about life and art, truth and deception, responsibility and complicity.

About the Author
Yann Martel was born in Spain in 1963. After studying philosophy at university, he worked odd jobs and traveled before turning to writing at the age of twenty-six. He is the author of the internationally acclaimed 2002 Man Booker Prize-winning novel Life of Pi, which was translated into thirty-eight languages and spent fifty-seven weeks on the New York Times bestseller list. Yann Martel lives in Saskatchewan, Canada. From the Hardcover edition.
Praise For Beatrice and Virgil…
PRAISE FOR BEATRICE AND VIRGIL

"Dark but divine…This novel might just be a masterpiece about the Holocaust…Martel brilliantly guides the reader from the too-sunny beginning into the terrifying darkness of the old man's shop and Europe's past. Everything comes into focus by the end, leaving the reader startled, astonished, and moved." —USA Today
 
"… a slim but potent exploration of the nature of survival in the face of evil…Beatrice and Virgil is a chilling addition to the literature about the horrors most of us cannot imagine, and will stir its readers to think about the depths of depravity to which humanity can sink and the amplitude of our capacity to survive."
—Nina Sankovitch, The Huffington Post
 
"Those spell-bound by Man Booker prize-winning Life of Pi will find much to love in Yann Martel's new work of fiction… In Beatrice and Virgil, Martel again evokes the power of allegory, this time to address the legacy of the Holocaust—as well as the pleasure of fairy tales. At the heart of this novel are questions about truth and illusion, responsibility and innocence, and Martel is able to employ Beatrice and Virgil as sympathetic, nuanced vehicles for his vision. Beatrice and Virgil is a thought-provoking delight."—Marie Claire

"Martel's Life of Pi engaged readers with the predicament of a shipwrecked boy and tiger; his new fable is just as inventive, provocative, and artful--only this time the peril is genocide."—Good Housekeeping

"Dark but divine…This novel might just be a masterpiece about the Holocaust…Martel brilliantly guides the reader from the too-sunny beginning into the terrifying darkness of the old man's shop and Europe's past. Everything comes into focus by the end, leaving the reader startled, astonished, and moved."—USA Today

"Brilliant…with this short, crisply written, many-layered book, Martel has once again demonstrated that nothing tells the truth like fiction.... Another philosophical winner."—The Cleveland Plain Dealer

"Has many wonders…Martel's latest book does something extraordinary. It causes the reader to contemplate serious ideas, and to think. Beatrice and Virgil will haunt you long after the final page."—BookPage

"If Beatrice and Virgil were a piece of music, it would be an extended fugue, beginning so quietly as to be almost inaudible, and culminating in a moment of overwhelming noise followed by silence…There is indeed no exit from Beatrice and Virgil, not even when the book culminates in its final moment of overwhelming crescendo, as Martel's characters find themselves trapped in an eruption of hell-like flames. Like the echoing themes of a fugue, all the components of the Martel's novel fit tightly together, leading up to one ultimate moment of terror."—The Harvard Crimson


PRAISE FOR LIFE OF PI

"Life of Pi could renew your faith in the ability of novelists to invest even the most outrageous scenario with plausible life."— The New York Times Book Review

"A story to make you believe in the soul-sustaining power of fiction."— Los Angeles Times Book Review

"A gripping adventure story . . . Laced with wit, spiced with terror, it's a book by an extraordinary talent."— St. Paul Pioneer-Press

"A terrific book . . . Fresh, original, smart, devious, and crammed with absorbing lore."— Margaret Atwood

"An impassioned defense of zoos, a death-defying trans-Pacific sea adventure a la Kon-Tiki, and a hilarious shaggy-dog story . . . : This audacious novel manages to be all of these." — The New Yorker

"Readers familiar with Margaret Atwood, Mavis Gallant, Alice Munro, Michael Ondaatje and Carol Shields should learn to make room on the map of contemporary Canadian fiction for the formidable Yann Martel." — Chicago Tribune