The Life You Can Save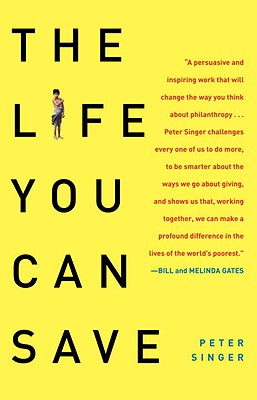 The Life You Can Save
How to Do Your Part to End World Poverty
Random House Trade, Paperback, 9780812981568, 214pp.
Publication Date: September 14, 2010
* Individual store prices may vary.
Buy at Local Store
Enter your zip code below to purchase from an indie close to you.
or
Buy Here
Description
For the first time in history, eradicating world poverty is within our reach. Yet around the world, a billion people struggle to live each day on less than many of us pay for bottled water. In The Life You Can Save, Peter Singer uses ethical arguments, illuminating examples, and case studies of charitable giving to show that our current response to world poverty is not only insufficient but morally indefensible. The Life You Can Save teaches us to be a part of the solution, helping others as we help ourselves.
About the Author
Peter Singer is currently Ira W. DeCamp Professor of Bioethics at the University Center for Human Values at Princeton University and Laureate Professor at the Centre for Applied Philosophy and Public Ethics at the University of Melbourne. He is the author or editor of more than forty books, including Animal Liberation (1975), Rethinking Life and Death (1996) and, most recently, The Life You Can Save (2009). In 2005, he was named one of the 100 most influential people in the world by Time magazine.
Praise For The Life You Can Save…
Advance praise for The Life You Can Save

"Part plea, part manifesto, part handbook, this short and surprisingly compelling book sets out to answer two difficult questions: why people in affluent countries should donate money to fight global poverty and how much each should give. . . . Singer doesn't ask readers to choose between asceticism and self-indulgence; his solution can be found in the middle, and it is reasonable and rewarding for all."
–Publishers Weekly (starred review)

"If you think you can't afford to give money to the needy, I urge you to read this book. If you think you're already giving enough, and to the right places, still I urge you to read this book. In The Life You Can Save, Peter Singer makes a strong case–logical and factual, but also emotional–for why each of us should be doing more for the world's impoverished. This book will challenge you to be a better person."
–Holden Karnofsky, co-founder, GiveWell


"In The Life You Can Save, Peter Singer challenges each of us to ask: Am I willing to make poverty history? Skillfully weaving together parable, philosophy, and hard statistics, he tackles the most familiar moral, ethical, and ideological obstacles to building a global culture of philanthropy, and sets the bar for how we as citizens might do our part to empower the world's poor."
–Raymond C. Offenheiser, president, Oxfam America