Darwin's Ghosts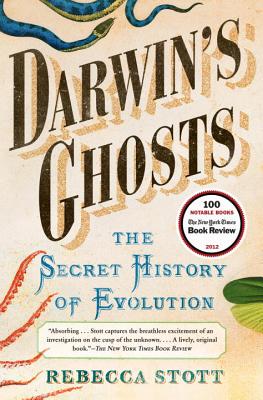 Darwin's Ghosts
The Secret History of Evolution
Spiegel & Grau, Paperback, 9780812981704, 432pp.
Publication Date: March 19, 2013
* Individual store prices may vary.
Buy at Local Store
Enter your zip code below to purchase from an indie close to you.
or
Buy Here
Description
A "NEW YORK TIMES" NOTABLE BOOK
An] extraordinarily wide-ranging and engaging book about] the men who shaped the work of Charles Darwin . . . a book that enriches our understanding of how the struggle to think new thoughts is shared across time and space and people. "The Sunday Telegraph" (London)
Soon after the publication of "On the Origin of Species, " Charles Darwin received an unsettling letter that accused him of taking credit for a theory that had already been discovered by others. Realizing his error of omission, Darwin tried to trace all of the natural philosophers who had laid the groundwork for his theory, but he found that history had already forgotten many of them.
Rebecca Stott goes in search of these ghosts, telling the epic story of the discovery of evolution and natural selection from Aristotle to the ninth-century Arab writer Al-Jahiz to Leonardo da Vinci to the brilliant naturalists of the Jardin des Plantes to Alfred Wallace and Erasmus Darwin, and finally to Charles Darwin himself. Evolution was not discovered single-handedly. It was an idea that was advanced over centuries by daring individuals across the globe who had the imagination to speculate on nature's extraordinary ways and the courage to articulate such speculations at a time when to do so was often considered heresy.
Praise for "Darwin's Ghosts"
Absorbing . . . Stott captures the breathless excitement of an investigation on the cusp of the unknown. . . . A lively, original book. "The New York Times Book Review"
Stott's research is broad and unerring; her book is wonderful. . . . An exhilarating romp through 2,000 years of fascinating scientific history. "Nature"
""
Stott brings Darwin himself to life. . . . She] writes with a novelist's flair. . . . Darwin and the ghosts so richly described in Ms. Stott's enjoyable book are the descendants of Aristotle and Bacon and the ancestors of today's scientists. "The Wall Street Journal"
Riveting . . . Stott has done a wonderful job in showing just how many extraordinary people had speculated on where we came from before the great theorist dispelled all doubts. "The Guardian "(U.K.)
About the Author
Rebecca Stott est ecrivain et presentatrice radio. Membre du departement d histoire des sciences de Cambridge, elle enseigne la litterature anglaise et l ecriture a l Universite d East Anglia. Elle est notamment l auteur d un essai sur Darwin. Son precedent roman, Le Manuscrit de Cambridge (Lattes, 2010) a ete salue par la critique internationale.
Praise For Darwin's Ghosts…
"Absorbing…Stott's narrative flows easily across continents and centuries…her portraits evoke vividly realized and memorable characters…Stott captures the breathless excitement of an investigation on the cusp of the unknown…[a] lively, original book. Darwin's Ghosts unfolds like an enjoyable and informative TV series, each episode devoted to a fascinating character who provides a window into the world of ideas of his time….it [helps] us see the necessity of bold and ambitious thinking. And right here, right now, it has additional value. Stott reminds us that even if evolution is currently fought over more brutally in the United States than elsewhere, this fight has a long and stubborn ancestry, one that is by no means peculiarly American or entirely modern."—The New York Times Book Review

"Stott gives personality to her historical characters, introducing their families, their monetary concerns, their qualms about publishing so-called heretical theories, and the obsessions that kept them up at night. She also brings her settings and secondary characters to life, from the deformed sponge divers Aristotle consulted in ancient Lesbos to the exotic animals in the caliphate's garden that inspired Jahiz in medieval Basra to lost seashells found by Maillet in the deserts outside 18th-century Cairo. Stott's focus on her settings makes her narrative compellingly readable, and it also reminds us that even as animal species are shaped by their environment, so intellectuals are shaped by their societies….Stott's book is a reminder that scientific discoveries do not happen in a vacuum, that they often stem from incorrect or pseudo-scientific inquiries, and that they are constantly changing, mutable concepts as they meander towards something that might eventually be called the truth."—Christian Science Monitor

"Mesmerizing, colorful, and often moving…richly drawn…This many-threaded story of intellectual development – of different discoveries and enquiries into fossils and polyps, of tropical birds and the curious properties of sponge, of men scouring seashores and caves, and trying to work new ideas around the fixed, immovable pillars of religion – is hypnotic….The subject is science, but Stott has a novelist's confidence, and there are vivid tableaux…This is a sympathetic examination of the innate human qualities of curiosity and inquiry, the helpless compulsion every generation has to probe further and further into the structures of creation."—The Telegraph (UK)
 
"This extraordinarily wide-ranging and engaging book rediscovers evolutionary insights across a great span of time, from the famous, such as Aristotle and the Islamic scholar Al-Jahiz, to the 16th-century potter Palissy, the 18th-century merman-believer Maillet and the transformist poet and botanist, Rafinesque – as well as from Diderot, Lamarck, Darwin's grandfather Erasmus and his contemporary Wallace. And these are just a few of the figures who emerge from the dark into the glow of Stott's attention. Each of them is evoked with an intimacy that is also clearheaded about the way ideas get stuck, or prove wrong-headed, but can't be parted with. Stott can make the nuances of ideas emerge in descriptions that suddenly bring the person close…. Gripping as well as fair-minded… Darwin's Ghosts is a book that enriches our understanding of how the struggle to think new thoughts is shared across time and space and people."—The Sunday Telegraph (UK)
 
"Stott's research is broad and unerring; her book is wonderful…. An exhilarating romp through 2,000 years of fascinating scientific history."—Nature
 
"Impressively researched... A gripping and ambitious history of science which gives a vivid sense of just how many forebears Darwin had."—The Times (UK)
 
"[Stott] has revealed an extraordinary batch of free thinkers who dared to consider mutability during times when such ideas might still cost the thinker his head….Every character that Stott introduces has a riveting story to tell, and all their histories are told with style and historical nous….Stott has done a wonderful job in showing just how many extraordinary people had speculated on where we came from before the great theorist dispelled all doubts."—The Guardian (UK)
 
"A fascinating history of an idea that is crucial to our understanding of life on earth." —The Independent (UK)
 
"Beautifully written and compelling…These mavericks and heretics put their lives on the line. Finally, they are getting the credit they deserve."—The Independent on Sunday (UK)

"Stott provides the lucid intellectual genealogy of evolution that the great man could not."—New Scientist (UK)

"Stott does a superb job of setting the scene for her protagonists, whether on the island of Lesbos, 18th-century Cairo, or revolutionary Paris. But her real strength lies in intellectual history. She demonstrates conclusively that evolutionary ideas were circulating among intellectuals for many centuries and that, for most of that time, those who promoted these ideas found themselves under attack by religious and political leaders. Darwin's scientific breakthrough, therefore, did not occur in a vacuum, but rather provided the most fully conceptualized theory. Stott has produced a colorful, skillfully written, and thoughtful examination of the evolution of one of our most important scientific theories."—Publishers Weekly (starred review)

"A lively account of the 'pathfinders, iconoclasts, and innovators' who were Darwin's spiritual kin…. Stott masterfully shows how Darwin, by discovering the mechanism of natural selection, made a unique contribution, but he did not stand alone—nor did he claim to."—Kirkus Reviews (starred review)
 
"The history of science comes alive as a drama of vibrant personalities wrestling with a dangerous idea."—Booklist

"Charles Darwin provided the mechanism for the evolution of the exquisite adaptations found in plants and animals, but the awareness that species can change had been growing long before him. With wonderful clarity Rebecca Stott traces how ideas about biological evolution themselves evolved in the minds of great biologists from Aristotle onward. Darwin would have loved this brilliant book—and so do I."—Sir Patrick Bateson, president of the Zoological Society of London
 
"Clever, compassionate, and compellingly written, Darwin's Ghosts interweaves history and science to enchanting effect. The evolution of the theory of evolution is a brilliant idea for a book, and Rebecca Stott has realized it wonderfully."—Tom Holland, author of Rubicon: The Triumph and Tragedy of the Roman Republic
 
"From Aristotle onward, evolutionists have—thank God—always been a quarrelsome lot, and not much has changed. Rebecca Stott shows how dispute, prejudice, and rage have accompanied their science from the very beginning. Darwin's Ghosts is a gripping history of the history of life and of those who have studied it, with plenty of lessons for today—perhaps for today's biologists most of all."—Steve Jones, author of Darwin's Ghost: The Origin of Species Updated
 
"The concept of evolution was not created fully formed and placed in the garden one day for our delight and terror but, as Rebecca Stott demonstrates in her inspiring book, evolved as much as we did. Darwin's Ghosts is a beautiful tribute to the buried tradition of curious, courageous observers who, before Darwin explained how evolution worked, witnessed the mutability of species for themselves and recorded what they saw."—Jonathan Rosen, author of The Life of the Skies: Birding at the End of Nature