Paradise Regained, Samson Agonistes, and the Complete Shorter Poems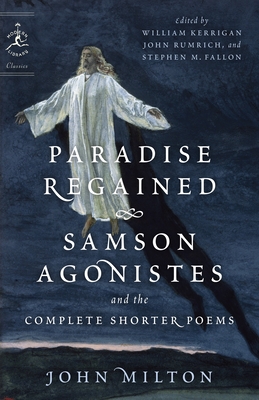 Paradise Regained, Samson Agonistes, and the Complete Shorter Poems
Modern Library, Paperback, 9780812983715, 399pp.
Publication Date: December 4, 2012
* Individual store prices may vary.
Buy at Local Store
Enter your zip code below to purchase from an indie close to you.
or
Not Currently Available for Direct Purchase
Description
Edited by William Kerrigan, John Rumrich, and Stephen M. Fallon Derived from the Modern Library's esteemed The Complete Poetry and Essential Prose of John Milton, this new volume, extensively revised and updated by its editors, contains Milton's two late masterpieces, the brief epic Paradise Regained and the tragic drama Samson Agonistes. Age after age, these works have inspired new controversy and exciting interpretive debates. With expert commentary to guide the reader through historical contexts and verbal details, as well as the larger political and philosophical implications, the concerns of these canonical pieces live once again for today's audiences. The volume also contains Milton's complete shorter poems, which include such major achievements as "Lycidas," "A Masque Presented at Ludlow Castle, 1634," "L'Allegro," and "Il Penseroso," and the author's twenty-four influential sonnets. Thoughtfully edited and carefully designed, this is an essential publication of Milton's classic poetry. Praise for The Complete Poetry and Essential Prose of John Milton "For generations of readers Milton has been the measure of both eloquence and nobility of mind. For the next generation, this new Modern Library volume will be the standard. It brings Milton, as a poet and a thinker, vividly alive before us."--Robert Hass, former Poet Laureate of the United States "A superb edition of the great poet, with modernized spelling, lucid introductions to each work, illuminating footnotes, and fresh prose translations in Latin, Greek, and Italian. This will surely be the edition of choice for teachers, students, and general readers too."--Leo Damrosch, Harvard University.
About the Author
John Milton (1608-74), the great English poet, is best known for his epic masterpiece, Paradise Lost. In addition to writing brilliant verse, he was a master of polemical prose. Milton was a private tutor and, during the Interregnum, the Secretary for Foreign Tongues in Oliver Cromwell's government. William Kerrigan's previous books include The Sacred Complex: On the Psychogenesis of Paradise Lost, for which he won the James Holly Hanford Award of the Milton Society of America. A former president of the Milton Society, he has earned numerous distinctions from that group, including its award for lifetime achievement. He is professor emeritus at the University of Massachusetts. John Rumrich is the author of Matter of Glory: A New Preface to Paradise Lost and Milton Unbound: Controversy and Reinterpretation. An award-winning editor and writer, he is Thaman Professor of English at the University of Texas at Austin, where he teaches early modern British literature. Stephen M. Fallon is the author of Milton's Peculiar Grace: Self-Representation and Authority and Milton Among the Philosophers: Poetry and Materialism in Seventeenth-Century England, winner of the Milton Society's Hanford Award. A recipient of the Milton Society's lifetime achievement award, he is the John J. Cavanaugh Professor in the Humanities at the University of Notre Dame. Gordon Braden (translator) is Linden Kent Memorial Professor of English at the University of Virginia and co-author, with William Kerrigan, of The Idea of the Renaissance.