The Girl in the Plain Brown Wrapper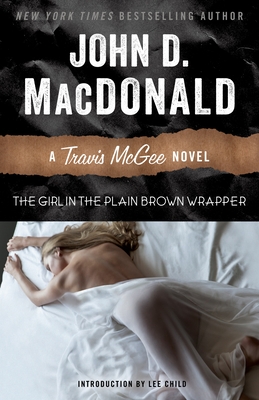 The Girl in the Plain Brown Wrapper
Random House Trade, Paperback, 9780812984019, 319pp.
Publication Date: June 18, 2013
* Individual store prices may vary.
Buy at Local Store
Enter your zip code below to purchase from an indie close to you.
or
Buy Here
Description
From a beloved master of crime fiction, The Girl in the Plain Brown Wrapper is one of many classic novels featuring Travis McGee, the hard-boiled detective who lives on a houseboat.
 
He had done a big favor for her husband, then for the lady herself. Now she's dead, and Travis McGee finds that Helena Pearson Trescott had one last request of him: to find out why her beautiful daughter Maureen keeps trying to kill herself. But what can a devil-may-care beach bum do for a young troubled mind?
 
"The Travis McGee novels are among the finest works of fiction ever penned by an American author."—Jonathan Kellerman
 
McGee makes his way to the prosperous town of Fort Courtney, Florida, where he realizes pretty quickly that something's just not right. Not only has Maureen's doctor killed herself, but a string of murders and suicides are piling up—and no one seems to have any answers.
 
Just when it seems that things can't get any stranger, McGee becomes the lead suspect in the murder of a local nurse. As if Maureen didn't have enough problems, the man on a mission to save her will have to save himself first—before time runs out.
 
Features a new Introduction by Lee Child
About the Author
John D. MacDonald (1916-1986) MacDonald was born in Sharon, Pa, and educated at the Universities of Pennsylvania, Syracuse and Harvard, where he took an MBA in 1939. After war service in the Far East he wrote hundreds of stories for the pulps and over seventy novels, including the 21 in the Travis McGee sequence.

Lee Child is the #1 New York Times bestselling author of the Jack Reacher series, which began with Killing Floor and includes Nothing to Lose and Gone Tomorrow.
Steve Berry is the New York Times bestselling author of The Charlemagne Pursuit and The Amber Room. He is the current president of the International Thriller Writers of America.
Praise For The Girl in the Plain Brown Wrapper…
Praise for John D. MacDonald and the Travis McGee novels
 
"The great entertainer of our age, and a mesmerizing storyteller."—Stephen King
 
"My favorite novelist of all time . . . All I ever wanted was to touch readers as powerfully as John D. MacDonald touched me. No price could be placed on the enormous pleasure that his books have given me. He captured the mood and the spirit of his times more accurately, more hauntingly, than any 'literature' writer—yet managed always to tell a thunderingly good, intensely suspenseful tale."—Dean Koontz
 
"To diggers a thousand years from now, the works of John D. MacDonald would be a treasure on the order of the tomb of Tutankhamen."—Kurt Vonnegut
 
"A master storyteller, a masterful suspense writer . . . John D. MacDonald is a shining example for all of us in the field. Talk about the best."—Mary Higgins Clark
 
"A dominant influence on writers crafting the continuing series character . . . I envy the generation of readers just discovering Travis McGee, and count myself among the many readers savoring his adventures again."—Sue Grafton
 
"One of the great sagas in American fiction."—Robert B. Parker
 
"Most readers loved MacDonald's work because he told a rip-roaring yarn. I loved it because he was the first modern writer to nail Florida dead-center, to capture all its languid sleaze, racy sense of promise, and breath-grabbing beauty."—Carl Hiaasen
 
"The consummate pro, a master storyteller and witty observer . . . John D. MacDonald created a staggering quantity of wonderful books, each rich with characterization, suspense, and an almost intoxicating sense of place. The Travis McGee novels are among the finest works of fiction ever penned by an American author and they retain a remarkable sense of freshness."—Jonathan Kellerman
 
"What a joy that these timeless and treasured novels are available again."—Ed McBain
 
"Travis McGee is the last of the great knights-errant: honorable, sensual, skillful, and tough. I can't think of anyone who has replaced him. I can't think of anyone who would dare."—Donald Westlake
 
"There's only one thing as good as reading a John D. MacDonald novel: reading it again. A writer way ahead of his time, his Travis McGee books are as entertaining, insightful, and suspenseful today as the moment I first read them. He is the all-time master of the American mystery novel."—John Saul