Madame Bovary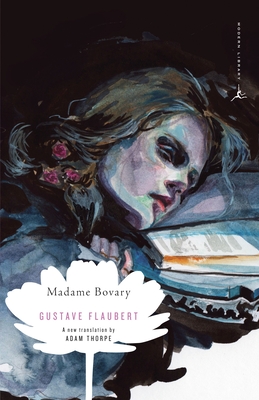 Madame Bovary
Modern Library, Paperback, 9780812985207, 464pp.
Publication Date: August 13, 2013
* Individual store prices may vary.
Buy at Local Store
Enter your zip code below to purchase from an indie close to you.
or
Buy Here
Description
A new translation by Adam Thorpe
 
Gustave Flaubert once said of his heroine, "Emma Bovary, c'est moi." In this acclaimed new translation, Adam Thorpe brings readers closer than ever before to Flaubert's peerless text and, by extension, the author himself.
 
Emma, a passionate dreamer raised in the French countryside, is ready for her life to take off when she marries the decent, dull Dr. Charles Bovary. Marriage, however, fails to live up to her expectations, which are fueled by sentimental novels, and she turns disastrously to love affairs. The story of Emma's adultery scandalized France when Madame Bovary was first published. Today, the heartbreaking story of Emma's financial ruin remains just as compelling. Translator Adam Thorpe, an accomplished author in his own right, pays careful attention to the "complex music" of Flaubert's language, with its elegant, finely wrought sentences and closely observed detail. This exquisite Modern Library edition is sure to set a new standard for an enduring classic.
 
Praise for Adam Thorpe's translation of Madame Bovary
 
"What leaves me reeling with each rereading (and Adam Thorpe's new translation is, pardon the pun, to die for) is the use of language. There can be no doubt as to the reason for Flaubert's brain popping at the top of the stairs when he was fifty-eight. He broke it scouring for perfect sentences, words, le mot juste."—Russell Kane, The Independent
 
"Flaubert described his great work as a poem, so it is fitting that a poet and novelist of Thorpe's stature should turn his hand to it."—Robin Robertson, The Herald (Scotland)
About the Author
Known for his scrupulous devotion to his art and perfectionist style, French writer Gustave Flaubert is counted among the greatest Western novelists, and influenced such writers as Franz Kafka and J. M. Coetzee. Flaubert is best known for Madame Bovary, for which he was prosecuted (and acquitted) for offending public morals. His other works of note include Memoirs of a Madman, November, Salammb?, Sentimental Education, and The Temptation of Saint Anthony. His work has been widely adapted for the stage and screen. Flaubert died in 1880.

Adam Thorpe, a poet and novelist, is the author of five novels including "Ulverton;" his most recent poetry collection is "Nine Lessons from the Dark".
Praise For Madame Bovary…
"What leaves me reeling with each rereading (and Adam Thorpe's new translation is, pardon the pun, to die for) is the use of language. There can be no doubt as to the reason for Flaubert's brain popping at the top of the stairs when he was fifty-eight. He broke it scouring for perfect sentences, words, le mot juste."—Russell Kane, The Independent
 
"Flaubert described his great work as a poem, so it is fitting that a poet and novelist of Thorpe's stature should turn his hand to it."—Robin Robertson, The Herald (Scotland)