Ancient Evenings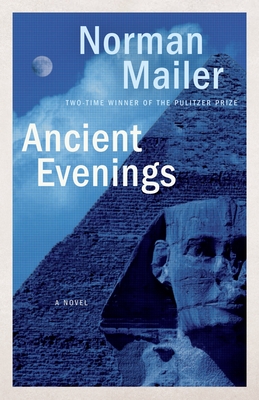 Ancient Evenings
Random House Trade, Paperback, 9780812986068, 810pp.
Publication Date: February 18, 2014
* Individual store prices may vary.
Buy Now
or
Shop Local
Enter your zip code below to purchase from an indie close to you.
Description
Norman Mailer's dazzlingly rich, deeply evocative novel of ancient Egypt breathes life into the figures of a lost era: the eighteenth-dynasty Pharaoh Rameses and his wife, Queen Nefertiti; Menenhetet, their creature, lover, and victim; and the gods and mortals that surround them in intimate and telepathic communion. Mailer's reincarnated protagonist is carried through the exquisite gardens of the royal harem, along the majestic flow of the Nile, and into the terrifying clash of battle. An extraordinary work of inventiveness, Ancient Evenings lives on in the mind long after the last page has been turned.
 
Praise for Ancient Evenings
 
"Astounding, beautifully written . . . a leap of imagination that crosses three millennia to Pharaonic Egypt."—USA Today
 
"Mailer makes a miraculous present out of age-deep memories, bringing to life the rhythms, the images, the sensuousness of a lost time."—The New York Times
 
"Mailer's Egypt is a haunting and magical place. . . . The reader wallows in the scope, depth, the sheer magnitude and—yes—the fertility of his imagination."—The Washington Post Book World
 
"An enormous pyramid of a novel [reminiscent of] Thomas Pynchon's Gravity's Rainbow and Carlos Fuentes's Terra Nostra."—Los Angeles Herald Examiner
 
Praise for Norman Mailer
 
"[Norman Mailer] loomed over American letters longer and larger than any other writer of his generation."—The New York Times
 
"A writer of the greatest and most reckless talent."—The New Yorker
 
"Mailer is indispensable, an American treasure."—The Washington Post
 
"A devastatingly alive and original creative mind."—Life
 
"Mailer is fierce, courageous, and reckless and nearly everything he writes has sections of headlong brilliance."—The New York Review of Books
 
"The largest mind and imagination [in modern] American literature . . . Unlike just about every American writer since Henry James, Mailer has managed to grow and become richer in wisdom with each new book."—Chicago Tribune
 
"Mailer is a master of his craft. His language carries you through the story like a leaf on a stream."—The Cincinnati Post
About the Author
Norman Mailer's first novel, "The Naked and the Dead", is widely regarded as one of the finest American novels of the twentieth century. Among Norman Mailer's other achievements are "Why Are We in Vietnam?, The Armies of the Night", for which he was awarded a Pulitzer Prize and the National Book Award in 1968, and "The Executioner's Song", which won the 1980 Pulitzer Prize.
Praise For Ancient Evenings…
Praise for Ancient Evenings
 
"Astounding, beautifully written . . . a leap of imagination that crosses three millennia to Pharaonic Egypt."—USA Today
 
"Mailer makes a miraculous present out of age-deep memories, bringing to life the rhythms, the images, the sensuousness of a lost time."—The New York Times
 
"Mailer's Egypt is a haunting and magical place. . . . The reader wallows in the scope, depth, the sheer magnitude and—yes—the fertility of his imagination."—The Washington Post Book World
 
"An enormous pyramid of a novel [reminiscent of] Thomas Pynchon's Gravity's Rainbow and Carlos Fuentes's Terra Nostra."—Los Angeles Herald Examiner
 
Praise for Norman Mailer
 
"[Norman Mailer] loomed over American letters longer and larger than any other writer of his generation."—The New York Times
 
"A writer of the greatest and most reckless talent."—The New Yorker
 
"Mailer is indispensable, an American treasure."—The Washington Post
 
"A devastatingly alive and original creative mind."—Life
 
"Mailer is fierce, courageous, and reckless and nearly everything he writes has sections of headlong brilliance."—The New York Review of Books
 
"The largest mind and imagination [in modern] American literature . . . Unlike just about every American writer since Henry James, Mailer has managed to grow and become richer in wisdom with each new book."—Chicago Tribune
 
"Mailer is a master of his craft. His language carries you through the story like a leaf on a stream."—The Cincinnati Post