Rob Delaney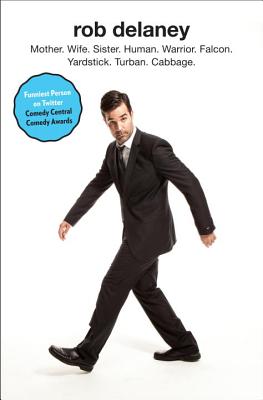 Rob Delaney
Mother. Wife. Sister. Human. Warrior. Falcon. Yardstick. Turban. Cabbage.
Spiegel & Grau, Hardcover, 9780812993080, 189pp.
Publication Date: November 5, 2013
* Individual store prices may vary.
Buy at Local Store
Enter your zip code below to purchase from an indie close to you.
or
Not Currently Available for Direct Purchase
Description
A memoir about sex, death, love, addiction, and fatherhood from one of the stars of the hit series Catastrophe, Rob Delaney--winner of the "Funniest Person on Twitter" at the Comedy Central Comedy Awards
NAMED ONE OF THE BEST BOOKS OF THE YEAR BY E ONLINE
Who is that hairy guy in the green Speedo?

Rob Delaney is a father, a husband, a comedian, a writer. He is the author of an endless stream of beautiful, insane jokes on Twitter. He is sober. He is sometimes brave. He speaks French. He loves women with abundant pubic hair and saggy naturals. He has bungee jumped off of the Manhattan Bridge. He enjoys antagonizing political figures. He listens to metal while he works out. He likes to fart. He broke into an abandoned mental hospital with his mother. He played Sir Lancelot in Camelot. He has battled depression. He is funny as s***. He cleans up well. He is friends with Margaret Atwood. He is lucky to be alive.
Read these hilarious and heartbreaking true stories and learn how Rob came to be the man he is today.
Praise for Rob Delaney
"Hilarious, raw."--Rolling Stone

"Unlike some books by comics, Rob] Delaney's volume offers a rich, deeply considered (and yes, funny) look at his life, from jumping off a bridge to crashing a car while drunk to getting and staying sober while other friends died trying. A great read by any standard, but even more so for including stories about needing (and failing) to find a bathroom while jogging."--E Online
"One of the most hilarious bundles of words we have ever read."--Vice
"A book as funny, sincere, weird, wet, and wonderful as Rob Delaney himself."--Jimmy Kimmel
"Heart-wrenchingly true tales exuding self-effacing whimsy and smart-guy charm . . . There are plenty of books by male comedians about being drunk and stupid and depressed and getting out of the hole they dug for themselves, but this book feels like you are reading the account told by a grownup who actually learned something about himself worthy enough to share in book form."--Splitsider
"Delaney has a knack for pinpointing what's hilarious and sad about adolescent bed-wetting and his own abundant body hair, but somehow the darkest chapters in this book] make you laugh hardest."--Entertainment Weekly
"Rob Delaney has done it again Actually, this is his first book, so he has not 'done it again.' Actually, this book is so good, I doubt he will be able to do it again. He's peaked."--Judd Apatow
"Rob's transition from tweets to book is like a gold medal sprinter winning the marathon the next day. I am jealous and angry."--Seth Meyers
"WARNING: This book may cause involuntary seepage. Some funny, funny, funny, funny s*** from the most dangerous man on Twitter. The fact that he's just as funny in long form makes me want to vomit with envy."--Anthony Bourdain
"All it takes to be as funny as Rob Delaney is luck, good timing, deep compassion, reckless imaginative agility, a flawless grasp of the inner workings of language, and criminally vast quantities of mojo. What a jerk."--Teju Cole, author of Open City

"Surprisingly moving . . . Candid and conversational, this memoir shows there's more to Delaney than pithy tweets."--Kirkus Reviews
About the Author
Rob Delaney has been named the "Funniest Person on Twitter" by Comedy Central and one of the "50 Funniest People" by Rolling Stone. He writes for Vice and The Guardian. This is his first book.
Praise For Rob Delaney…
"A book as funny, sincere, weird, wet, and wonderful as Rob Delaney himself."—Jimmy Kimmel
 
"Rob Delaney has done it again! Actually, this is his first book, so he has not 'done it again.' Actually, this book is so good, I doubt he will be able to do it again. He's peaked."—Judd Apatow

"Rob's transition from tweets to book is like a gold medal sprinter winning the marathon the next day. I am jealous and angry."—Seth Meyers

"WARNING: This book may cause involuntary seepage. Some funny, funny, funny, funny s*** from the most dangerous man on Twitter. The fact that he's just as funny in long form makes me want to vomit with envy."—Anthony Bourdain

"All it takes to be as funny as Rob Delaney is luck, good timing, deep compassion, reckless imaginative agility, a flawless grasp of the inner workings of language, and criminally vast quantities of mojo. What a jerk."—Teju Cole, author of Open City

"Although the aphorism 'We laugh to keep from crying' risks sounding clichéd, Delaney proves the point in this alternately melancholy and madcap depiction of an adolescence and early adulthood fueled by booze ('I sought booze with a fervor measurably more intense than that with which I sought to get into young women's underpants')…A surprisingly moving story of how humor can alleviate sorrow, if never completely eradicate it. The chapter about visiting the abandoned Danvers State Hospital-infamous for carrying out countless lobotomies in the 20th century-is worth reading on its own for the empathy it evokes for the casualties of early mental health treatment. Candid and conversational, this memoir shows there's more to Delaney than pithy tweets." —Kirkus Reviews