Brothers & Beasts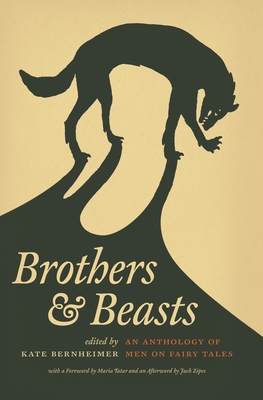 Brothers & Beasts
An Anthology of Men on Fairy Tales
Wayne State University Press, Paperback, 9780814332672, 191pp.
Publication Date: October 8, 2007
* Individual store prices may vary.
Buy at Local Store
Enter your zip code below to purchase from an indie close to you.
or
Buy Here
Description
Despite the availability of several eloquent gender studies of fairy tales, a popular reference on men and fairy tales has so far been nonexistent. Brothers and Beasts offers a new perspective by allowing twenty-three male writers the chance to explore their artistic and emotional relationship to their favorite fairy-tale stories. In their personal essays, the contributors-who include genre, literary, mainstream, and visual media writers-offer new insight into men's reception of fairy tales. Brothers and Beasts, the follow-up to Kate Bernheimer's influential Mirror, Mirror on the Wall: Women Writers Explore Their Favorite Fairy Tales, offers new avenues for research in fairy-tale studies.
Bernheimer has invited many well-known writers to contribute to this volume, from Gregory Maguire, whose acclaimed titles include Wicked, Confessions of an Ugly Stepsister, and Son of a Witch, to Robert Coover, one of the premier authors of postmodern fiction, to Neil Gaiman, a well-known fantasy fiction writer and author of graphic novels. With a foreword by Maria Tatar and an afterword by Jack Zipes, the intimate and contemplative essays are framed by insight from two leading fairy-tale studies scholars.
Brothers and Beasts proves that men are deeply influenced by the childhood reading of fairy tales, despite the fact that these fantastic and memorable tales are often mistakenly considered to be the domain of women readers and writers. Students and teachers of fairy-tale and gender studies along with readers of contemporary literature will enjoy this accessible and intriguing volume.
About the Author
Kate Bernheimer has written novels for adults, and is the editor of the literary journal Fairy Tale Review. She is an assistant professor of creative writing in the MFA program at the University of Alabama, Tuscaloosa. She lives in Tuscaloosa, Alabama, with her husband and daughter.
Nicoletta Cecolli is the illustrator of many acclaimed picture books published around the world, including "The Barefoot Book of Fairy Tales," retold by Malachy Doyle. She lives in San Marino, Italy.
"From the Hardcover edition."
Jack Zipes is professor emeritus of German and comparative literature at the University of Minnesota and the author, translator, and editor of dozens of studies and collections of folk and fairy tales. His recent books include "Why Fairy Tales Stick: The Evolution and Relevance of a Genre", "Relentless Progress: The Reconfiguration of Children s Literature, Fairy Tales, and Storytelling", and "The Enchanted Screen: The Unknown History of Fairy-Tale Films".
Maria Tatar is the John L. Loeb Professor of Germanic Languages and Literature and chairs the Program in Folklore and Mythology at Harvard University. She is author of The Annotated Brothers Grimm (2012), Enchanted Hunters: The Power of Stories in Childhood (2009) and other volumes.