Stop Foreclosure Now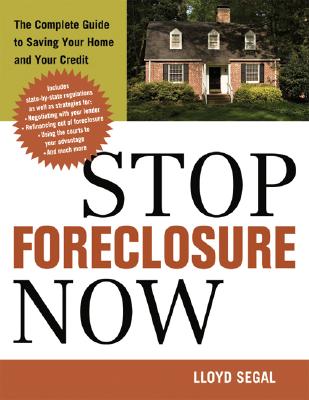 Stop Foreclosure Now
The Complete Guide to Saving Your Home and Your Credit
AMACOM/American Management Association, Paperback, 9780814413302, 339pp.
Publication Date: September 1, 2008
* Individual store prices may vary.
Buy at Local Store
Enter your zip code below to purchase from an indie close to you.
or
Not Currently Available for Direct Purchase
Description
We've all heard the reports. Americans are losing their homes in record numbers, and the housing crisis seems unlikely to subside anytime soon. Foreclosures affect all kinds of people and all kinds of properties. Many people faced with foreclosure feel helpless and resigned to giving up their homes without even trying to save them. The good news is that with the right advice, homeowners can take control of the situation, avoid foreclosure proceedings, and even protect their credit. Lloyd Segal, mortgage banker, attorney, and real estate investor has spent the last twenty-five years helping homeowners save their houses. In "Stop Foreclosure Now," he shows readers how to:
develop a plan to delay or stop foreclosure - understand the documents involved - negotiate with their lender - use the courts to stop foreclosure and bankruptcy - arrange to refinance their property - sell their property quickly - use military status to stop foreclosure - understand foreclosure laws in all 50 states
Timely and indispensable, this guide will help anyone survive the housing crisis and preserve their most important investment.
About the Author
Lloyd Segal Trained as an attorney, Lloyd Segal is a mortgage banker, author, real estate investor, and public speaker. Now located in Santa Monica, California, Lloyd was born in Pittsburgh Pennsylvania. He graduated Boston University and Southwestern University School of Law (where he was President of the Student Bar Association), and studied International Law at the University of Innsbruck, Austria. Lloyd is the author of "Everything You Wanted to Know About Chapter 11 Bankruptcy...but Were Afraid to Ask, "Stop Foreclosure Now in California" (Nolo Press), "Stop Foreclosure Now" (published by American Management Association), "Foreclosure Investing" (Regency Publishing), and "Flipping Houses" (Regency Publishing). With his extensive experience and writings on real estate and related topics, Lloyd is considered "America's Leading Houose-Flipping Expert" and has appeared on numerous radio and TV shows throughout the United States. Lloyd is an informative and exciting public speaker with over 20 years of professional real estate experience as an investor, mortgage banker, attorney, and author. He is a frequent guest speaker at various universities, boards of realtors, Coldwell Banker national conventions, and numerous other real estate and service organizations throughout the United States. Lloyd currently teaches foreclosure workshops for investors and/or realtors throughout the united States. Lloyd is an avid horseman. His passion is polo. He is a member of the United States Polo Association, and the former 9-term President of the Will Rogers Polo Club (1994-2002) in Pacific Palisades, California. Lloyd's education mission is to provide the highest quality of information in every area he teaches. That means he shares with his students the knowledge and secrets he (and his partners) has learned through decades of real experience in real estate acquisition, asset protection, and investments. With his 20+ years of training and experiences, Lloyd possesses a knowledge base that is virtually unequaled anywhere in the seminar and education fields of real estate investing. His training and real-life experiences would allow Lloyd to teach and educate others as no one else could. His expertise would allow him to write books, and provide products and services with substance and real value for every student he would encounter.