Whiskey Breakfast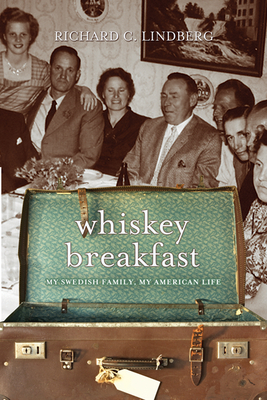 Whiskey Breakfast
My Swedish Family, My American Life
University of Minnesota Press, Paperback, 9780816646845, 300pp.
Publication Date: August 25, 2011
* Individual store prices may vary.
Not Currently Available for Direct Purchase
or
Shop Local
Enter your zip code below to purchase from an indie close to you.
Description
Chicago in the 1920s: Clark Street was the city's last Swedetown, a narrow corridor of weather-beaten storefronts, coal yards, and taverns running along the north side of the city and the locus of Swedish community life in Chicago during the first half of the twentieth century. It represented a way station for a generation of working-class immigrants escaping the hardships of the old country for the promise of a brighter new day in a halfway house of sorts, perched between the old and new lands. For Richard C. Lindberg, whose Swedish immigrant parents and grandparents settled there, it was also the staging ground for an intensely personal, multigenerational, coming-of-age drama based on the struggles of two disparate families their dreams and their depravities, their victories and their failures.
"Whiskey Breakfast" is Lindberg's captivating tale of life as a first-generation baby-boomer Swedish American, caught between the customs of a land he had never been to and the desire to conform and fit into a troubled existence, tragically scarred by alcoholism, divorce, and peer abuse. But it is also a powerful and intimate portrait of his immigrant ancestors, and especially of his father, Oscar a contractor and master builder who helped develop Chicago's post World War II suburbs. A paradoxical man, known to some as a socialist, an anarchist, and a serious drinker, Oscar would carry with him to the grave a sixty-two-year-old family secret, a secret that for Lindberg lies at the very heart of the great Swedish unrest that drove his father and countless other men and women out of Sweden and onward to America.
Masterfully blending autobiography with immigrant history, "Whiskey Breakfast" surrounds Lindberg's family story with Swedish cultural history and politics, as well as remarkable Chicago history and how Clark Street and Swedetown became, and in many ways remain, a center of Swedish immigrants social and cultural life. Far from a eulogy for an idealized past, Lindberg has crafted a moving and sobering memoir of a young man's struggle to come to terms with his father and himself, his immigrant heritage, and his native home.

About the Author
Richard C. Lindberg is a journalist, research historian, and the author of eleven books, including "To Serve and Collect: Chicago Politics and Police Corruption from the Lager Beer Riot to the Summerdale Scandal, 1855-1960, "the first book-length history of the Chicago Police Department published since 1887, and "Chicago by Gaslight: A History of the Chicago Netherworld, 1880-1920." He is a past president of the Illinois Academy of Criminology and the Society of Midland Authors and a recipient of the Frederic Milton Thrasher Award for Excellence in Research and Reportage for his work on Chicago organized crime and street gangs. Gloria Jean Sykes is a documentary film producer and investigative journalist. The wide respect her work has earned is evident in Emmy nominations for three of her specials, "Campaign '90," "Homelessness: A Prayer," and "Children of Alcoholic Parents." She produced the prime-time NBC series "What Happened, "which explores the mysteries surrounding such high profile cases as the meltdown at Three Mile Island, and her documentaries "Multiple Personalities" and "Marriage and Murder" garnered honors as A&E's highest rated programs. Her first feature movie, the HBO Original "Cheaters," spotlights the 1995 Steinmetz High School academic decathlon scandal. First airing in 2000, it also earned an Emmy nomination.
Praise For Whiskey Breakfast…
"Richard Lindberg does not spare himself or his ancestors in this poignant and powerful memoir of his family's entry to the United States. I was reminded of the great cycle of emigrant novels by Vilhelm Moberg, the noted Swedish novelist I first read and so admired in my youth, who wrote vividly and sometimes brutally of the downtrodden classes of his forebears. Lindberg evokes the same haunted landscape of poverty and superstition from which his ancestors fled to America . . . only to suffer different demons in that new land. In the end his story is a redemptive one of endurance and survival."Harry Mark Petrakis


"Deep, introspective and somber, this is by far Lindberg's most personal book to date." —Kirkus Reviews