Twelve Owls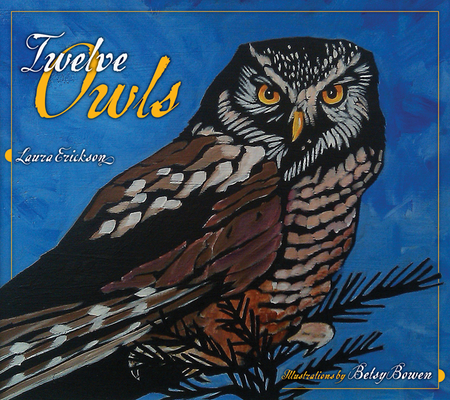 Twelve Owls
University of Minnesota Press, Hardcover, 9780816677580, 65pp.
Publication Date: September 20, 2011
* Individual store prices may vary.
Buy at Local Store
Enter your zip code below to purchase from an indie close to you.
or
Not Currently Available for Direct Purchase
Description
Meet the saw-whet, the tiniest of Minnesota's owls, a mere eight inches from the tip of its blunt tail to the top of its rounded head. The simplest way to find one is to listen for the scolding calls of a flock of agitated chickadees. Or, if you re lucky, you might witness the male throwing all caution to the wind and co-co-co-co-ing for a mate, inching forward on every note like the bird in a cuckoo clock.
From this fetching little creature to the magnificent great gray, the owls of Minnesota have found the perfect spokeswoman in this book, which is as charming as it is informative. Written with wit and a remarkable command of bird lore by Laura Erickson, well known to public radio listeners and birdwatchers everywhere, "Twelve Owls" also features enchanting pictures, from the long view to up-close detail, by award-winning artist Betsy Bowen.
Who cooks for you? Who cooks for you? the barred owl asks, breaking into a duet that sounds like maniacal laughter when he gets lucky. The great gray, the biggest of the state's and perhaps the world's owls, hurls herself into the snow and fetches up a meadow vole, leaving behind a beautiful snow angel.
The telling detail, the natural drama, the identifying features, and the environmental story all unfold in Erickson's engaging account of what to look for, where to look, and what these much-mythologized but very real denizens of the bird kingdom might be doing in the state of Minnesota.

About the Author
Laura Erickson is a former editor with the Cornell Lab of Ornithology and host of radio's "For the Birds." She has written numerous books on birding, including 101 Ways to Help Birds, Into the Nest, and The Bird Watching Answer Book. She lives near Duluth, Minnesota.

Betsy Bowen is the author-illustrator of several books for children. Reviewers have described her distinctive woodcuts as bold, rich and handsome. The mother of three sons, she has lived with her family on the rugged north shore of Lake Superior in Minnesota for more than thirty years.