A Century of Controversy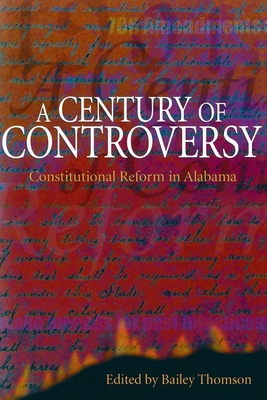 A Century of Controversy
Constitutional Reform in Alabama
University Alabama Press, Paperback, 9780817312183, 224pp.
Publication Date: June 19, 2002
* Individual store prices may vary.
Buy at Local Store
Enter your zip code below to purchase from an indie close to you.
or
Not Currently Available for Direct Purchase
Description
This timely examination of Alabama's severely criticized state constitution will serve as an indispensable guide for legislators and citizens considering reform of the outdated document.
Alabama's present constitution, adopted in 1901, is widely viewed as the source of many, if not most, of the state's historic difficulties and inequities. Chief among these is a poorly funded school system, an imbalanced tax system that favors special business interests, legislated racism, and unchecked urban sprawl. Many citizens believe that, after 100 years of overburdening amendments and confusing addendums, the constitution urgently needs rewriting.
With this book, Bailey Thomson has assembled the best scholarship on the constitution, its history, and its implications for the future. Historian Harvey H. Jackson III details the degree to which the 1901 document was drafted as a legal tool to ensure white supremacy at the expense of poor whites and blacks, while Joe A. Sumners illustrates how the constitution ties the hands of elected civic leaders by handing authority for local decisions to state government in Montgomery. James W. Williams Jr. explores the impact of the state constitution on the beleaguered tax system and the three principal revenue crises it has engendered. Thomson's own contribution explains how, in contrast to the previous failed attempts for constitutional change by past governors who appealed to their fellow power brokers, the current reform movement arose from the grassroots level.
As citizens and politicians in Alabama review the 1901 constitution for revision, as they navigate the pitfalls and opportunities inherent in change, it is incumbent that they inform themselves adequately on the controversies that have swirled around the constitution since its adoption. The future of Alabama's government will depend upon it, as will the fortunes of Alabama's business interests and the well-being of every citizen in the state for years to come.

About the Author


Thomson is Associate Professor of Journalism at the University of Alabama.

Wayne Flynt is Distinguished University Professor of History at Auburn University and author or coauthor of 11 books, including "Alabama Baptists: Southern Baptists in the Heart of Dixie, Poor But Proud: Alabama's Poor Whites, Alabama: The History of a Deep South State, "and "Taking Christianity to China: Alabama Missionaries in the Middle Kingdom, 1850-1950." He has been recognized by numerous awards and honors, including the Lillian Smith Award for nonfiction, the Clarence Cason Nonfiction Award, the James F. Sulzby Jr. Book Award (twice), and the Alabama Library Association Award for nonfiction (twice).