Cherokee Women in Crisis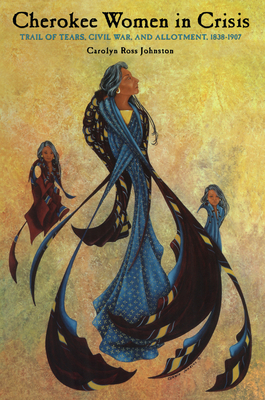 Cherokee Women in Crisis
Trail of Tears, Civil War, and Allotment, 1838-1907
University of Alabama Press, Paperback, 9780817350567, 227pp.
Publication Date: October 6, 2003
* Individual store prices may vary.
Buy at Local Store
Enter your zip code below to purchase from an indie close to you.
or
Buy Here
Description
Explains how traditional Cherokee women's roles were destabilized, modified, recovered, and in some ways strengthened during three periods of great turmoil.

American Indian women have traditionally played vital roles in social hierarchies at the family, clan, and tribal levels. In the Cherokee Nation, specifically, women and men are considered equal contributors to the culture. With this study, however, we learn that three key historical events in the 19th and early 20th centuries removal, the Civil War, and allotment of their lands forced a radical renegotiation of gender roles and relations in Cherokee society.

Carolyn Johnston (who is related to John Ross, principal chief of the Nation) looks at how Cherokee women navigated these crises in ways that allowed them to retain their traditional assumptions, ceremonies, and beliefs and to thereby preserve their culture. In the process, they both lost and retained power. The author sees a poignant irony in the fact that Europeans who encountered Native societies in which women had significant power attempted to transform them into patriarchal ones and that American women struggled for hundreds of years to achieve the kind of equality that Cherokee women had enjoyed for more than a millennium.

Johnston examines the different aspects of Cherokee women's power: authority in the family unit and the community, economic independence, personal autonomy, political clout, and spirituality. Weaving a great-grandmother theme throughout the narrative, she begins with the protest of Cherokee women against removal and concludes with the recovery of the mother town of Kituwah and the elections of Wilma Mankiller and Joyce Dugan as principal chiefs of the Cherokee Nation and the Eastern Band of Cherokees.

About the Author
Carolyn Johnston originally trained as a solicitor. She has been senior lecturer in law at Kingston since 1992. She completed the MA in Medical Law and Ethics at King's College London in 1997 and has specialised in medical law since then. Carolyn is module leader for two level 6 modules; Medical Law & Ethics I and II. Between 2002 and 2005 she worked at the Ethox Centre, University of Oxford, as Project Officer for the UK Clinical Ethics Network and as Education and Training Coordinator for the Education for Ethics Support Project.

Carolyn is Adviser in Medical Law & Ethics, King's College London, School of Medicine. She has also recently been jointly appointed by the Institute of Medical Ethics as project development manager and assistant for the medical ethics and law education project. This 3 year project will undertake a review of ethics and law in the medical undergraduate curriculum and provide support to those involved in teaching the core curriculum.

Carolyn is a member of the Clinical Ethics Committees at Imperial College Healthcare NHS Trust, London and also at Central and North West London Mental Health Trust.

In 2005 Carolyn was awarded a Promising Researcher Fellowship through Kingston University. Research was carried out in collaboration with University of Oxford to evaluate the range of legal, ethical and social issues arising in cases where the refusal of medical treatment by a competent teenager is overridden.
Praise For Cherokee Women in Crisis…
"The major success of the book . . . is Johnston's refusal to portray the Cherokee women as victims. Through every strife and struggle, these women were agents of their own power, adapting to the changing times. Walking the Trail of Tears, watching their homes plundered by Union soldiers, being forced to give up their sacred land, the Cherokee women persevered with a quiet strength, channeling their energy into what's most important: cultural survival."ForeWord Magazine

"If the precise connection between historical events and cultural change cannot always be drawn clearly, Johnston's engaging narrative, based on solid research, brings to life many remarkable Cherokee women whose stories provide broader insights into gendered lives."Journal of Southern History