The Bible According to Mark Twain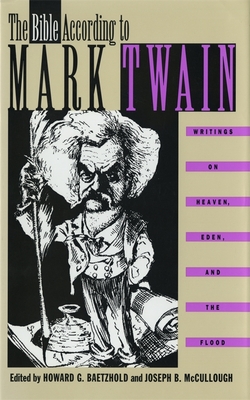 The Bible According to Mark Twain
Writings on Heaven, Eden, and the Flood
University of Georgia Press, Hardcover, 9780820316505, 412pp.
Publication Date: June 1, 1995
* Individual store prices may vary.
Buy Now
or
Shop Local
Enter your zip code below to purchase from an indie close to you.
About the Author
Mark Twain, born Samuel Langhorne Clemens, was an American humorist and writer, who is best known for his enduring novels The Adventures of Tom Sawyer and Adventures of Huckleberry Finn, which has been called the Great American Novel. Raised in Hannibal, Missouri, Twain held a variety of jobs including typesetter, riverboat pilot, and miner before achieving nationwide attention for his work as a journalist with The Celebrated Jumping Frog of Calaveras County. He earned critical and popular praise for his wit and enjoyed a successful career as a public speaker in addition to his writing. Twain s works were remarkable for his ability to capture colloquial speech, although his adherence to the vernacular of the time has resulted in the suppression of his works by schools in modern times. Twain s birth in 1835 coincided with a visit by Halley s Comet, and Twain predicted, accurately, that he would go out with it as well, dying the day following the comet s return in 1910.



Joseph B. McCullough is Distinguished Professor of English at the University of Nevada, Las Vegas. He is coeditor of The Bible According to Mark Twain: Writings on Heaven, Eden, and the Flood and Mark Twain at the "Buffalo Express": Articles and Sketches by America's Favorite Humorist.