Venezuela and the United States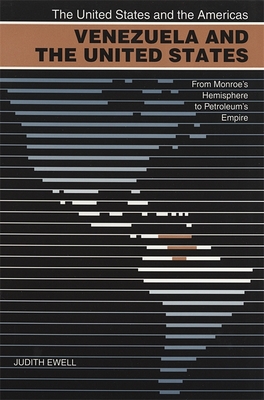 Venezuela and the United States
Venezuela and the United States
University of Georgia Press, Paperback, 9780820317830, 280pp.
Publication Date: June 1, 1996
* Individual store prices may vary.
Buy at Local Store
Enter your zip code below to purchase from an indie close to you.
or
Buy Here
Description
Long before sea power, the Panama Canal, and petroleum drew the world's attention to the Caribbean coast, United States leaders recognized Venezuela's potential as the linchpin of the Caribbean's southern rim. In "Venezuela and the United States," Judith Ewell provides a historical analysis of the main themes and directions of U.S.-Venezuelan relations from the early 1800s, when Simon Bolivar declared an American Republican identity and Monroe proclaimed U.S. responsibility for the hemisphere to the present, when Venezuelan relations with the United States reflect the growing importance of the developing world and its multilateral challenges to U.S. global hegemony.
Authoritatively treating the political, economic, and cross-cultural dynamics of two nations, Ewell approaches her subject from both a Venezuelan and U.S. perspective. Her careful understanding of conflicting interests and purposes shows how other players, from Great Britain to OPEC, have affected the course of the nations' diplomatic relationship. Ewell demonstrates that Venezuela's two-hundred-year history with the United States reflects all of the key moments and issues in inter-American relations, from the Roosevelt and Olney Corollaries to the Monroe Doctrine, the Good Neighbor Policy, the Cold War, the North-South dialogues, the debt controversies, and the post-Cold War era.
Using popular literature, folklore, and travel accounts, Ewell examines how Venezuelans and yanquis have perceived each other over the years and relates how the strong U.S. presence in business and popular culture has created in Venezuelans feelings of both love and hatred for the "American way of life." The author argues, however, that in a hemisphere clearly dominated by the U.S., a new international order has arisen, giving weak nations like Venezuela greater influence while creating a complex mosaic of alliances. A model history of binational relations, "Venezuela and the.
About the Author
Ewell is Newton Family Professor of History and chair of the History Department at the College of William and Mary.

Lester D. Langley, research professor of history emeritus at the University of Georgia, is the author or editor of a number of books on the history of United States foreign relations, including "Central America: The Real Stakes", "The United States and the Caribbean in the Twentieth Century" (Georgia, 1985), and "MexAmerica: Two Countries, One Future". He is general editor of the University of Georgia Press series of books "The United States and the Americas".