Soul Sanctuary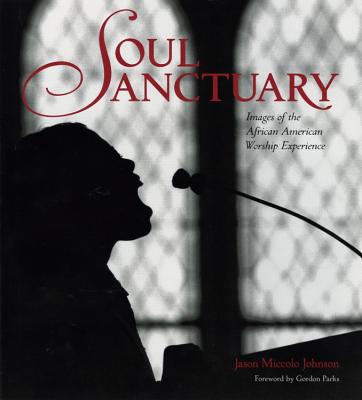 Soul Sanctuary
Images of the African American Worship Experience
Bulfinch Press, Hardcover, 9780821257906, 159pp.
Publication Date: April 19, 2006
* Individual store prices may vary.
Buy at Local Store
Enter your zip code below to purchase from an indie close to you.
or
Not Currently Available for Direct Purchase
Description
A photographic celebration of the most influential institution in the African-American community--"the church--"and its unique worship experience.
About the Author
Jason Johnson has developed into quite a man for his 36 years on this earth. He was born October 11, 1967 in Raleigh, North Carolina to an average, hardworking, Irish-American family. Jason makes it known that "Southerners are some of the nicest, most hospitable people you will ever meet in America." He also says that "It's funny how most Americans who have never even traveled to the Southern part of the United States constantly "stereotype" us with uneducated, racist remarks. That couldn't be further from the truth." After Jason graduated from high school in 1985, he got the "patriotic fever" and decided to attend military college in Georgia to become an officer in the U.S. Army. While he was attending military college he also joined the Army Reserves and entered the prestigious SMP-Program-Simultaneous Membership Program for active cadets seeking a commission in the military. Jason was just two semesters shy of being commissioned when he decided to pursue a career in the entertainment industry. Jason later said that "It was one of the biggest mistakes of my life."Although he was never commissioned he still went on to serve and train as an infantry "scout" at Ft. Benning, Ft. Knox and Ft. Stewart. He still supports our troops with a burning passion and says that, "Most Americans are lazy, spoiled hypocrites that take their freedom for granted. Everyone should serve in the military and get a taste of what our soldiers go through just so we can walk the streets of America in freedom everyday!"
After Jason's "stint" in the service he decided to move to Miami Beach, Florida where he would go on to work in the entertainment industry as a show host (95-98) for the Miami Model Searchshow. He also actively worked as a voice-over artist on many animated projects in Miami as well as an actor and stuntman. After receiving his SAG-Screen Actors Guild card and studying drama and acting for many years he finally decided to call it quits in the entertainment industry due to it's "domination" of liberalism. Jason says that "If you are a Republican or have conservative views you might want to think twice about working in Hollywood or the entertainment industry. It definitely isn't a place for people who lean to the Right, that's for sure."
Jason has always wanted to put his views and ideas into "book form" but could never find the time. After witnessing the "voting mess" and watching all the liberal, anti-Bush protestors out in the streets during the 2000 presidential election in South Florida (which happened just up the street from his house), he finally decided that the time for a book like Wake up America! was long overdue. He has a deep passion for literacy and history and makes it known that the utter stupidity that reigns in America today is downright embarrassing and disgraceful to him as an American!
He also says that "Now the liberal Left (with the help of the ACLU of course) have convinced our children that wearing American flags, saying the Pledge of Allegiance or showing any form of patriotism for the U.S.A. should be outlawed because it might insult foreigners of different races and religions that are coming into this country." Jason also makes it known in his controversial book, Wake up America! that "These are the principles our country was founded on and if foreigners coming into the U.S.A. are offended by them, they can go back to wherever it is theycame from or learn to adapt. They should learn to speak our language. They should learn our laws and embrace our way of life, NOT the other way around! This is our way! The American way! I don't care how it was where they came from. If they loved their mother country so much then why did they leave in the first place? They need to adapt and learn the American way. You certainly couldn't (or wouldn't!) go to any other country and demand that they "re-write" their laws and history books just to appease your needs and beliefs. They would probably shoot you in front of everyone just to make an example of what they do to foreigners who come to their country and try to boss them around and change their way of life. Just look at Iraq if you want a good example."
Jason makes it clear how he feels about the state America is in now. He says; "I'm so disappointed with my country it almost makes me sick to my stomach. We have turned into a nation full of sissies and fairies! The generation that pulled this country through WWII was called the "greatest generation" because they believed in honor, loyalty and dignity! They didn't back down from anyone! They took pride in being Americans and they weren't afraid to go and fight for their fellow countrymen and liberate others who were being oppressed around the world. I don't know what the hell happened with my generation! They are all a bunch of spoiled liberal losers who do not deserve to walk the soil of the U.S.A.! Most of them would shit all over themselves if you yelled booo! They are a disgrace! They need to learn the true meaning of discipline and respect! I would loooove for the military to bring the draft back! That would make my day!"Jason says his heroes are people like George W. Bush, Sean Hannity, David Horowitz, Ronald Reagan and Ann Coulter not Al Franken, Michael Moore, Barbra Streisand and Danny Glover!
He makes it known that the true heroes of this country are the "bluecollar" workers because they are people who make this country function! Not Barbra "Babs" Streisand, Alec Baldwin or Bill Clinton! Jason says one of his favorite songs is Credence Clearwater Revival's "Fortunate Son." "That song really drives the point home about privileged people in this country (Hollywood celebs, phony Democrats and illiterate athletes) protesting against capitalism, our government and the rich. They say they are for the "little guy" but when the protest rally is over they get into their stretch limos and drive back to their mansions and penthouses. They don't give a damn about blue-collar people! Those are the people who fix their expensive sportscars, mow their lawns and fight our wars. What hypocrites they are!"
Jason recently married his soulmate, Gillian, from Dublin, Ireland and now has a beautiful daughter, Holly. Jason has always been fascinated with the history of his people, the Irish, (on the island and in America), and makes it known that he would love to work with Sinn Fein's President, Gerry Adams in the near future to excel the peace process between Republicans and Loyalists. He has developed quite an arsenal of books on the Northern Ireland "Troubles" through the years and says that "Sinn Fein could use a passionate, Irish-American voice like his in America." You will also be seeing more of Jason's face in the near future working in the media driving young, Republicans to the voting polls. He isserious about "turning America around" and says that Americans should get off our rear ends and start giving a damn about something again!" Get "Wake up America! today. You won't be sorry! It is a serious "wake up call" for the American public. Better yet, after you read it, give it to someone else who needs a "wake up call!" Peace and God bless America!
< p> GORDON PARKS is the author of numerous books of poetry, fiction, nonfiction, and photography, including < i> The Learning Tree< /i> and < i> A Choice of Weapons< /i> . He is the recipient of a plethora of honorary degrees and awards, including the National Medal of Art. He is also a film director and composer, and wrote the music and libretto for< i> Martin, < /i> a ballet honoring Martin Luther King, Jr.< /p>