Points on the Dial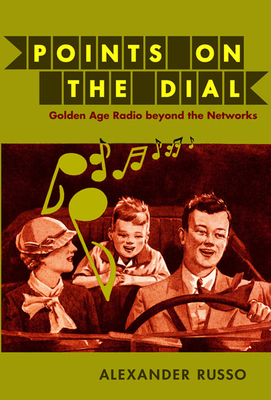 Points on the Dial
Golden Age Radio Beyond the Networks
Duke University Press, Paperback, 9780822345329, 292pp.
Publication Date: February 1, 2010
* Individual store prices may vary.
Buy at Local Store
Enter your zip code below to purchase from an indie close to you.
or
Not Currently Available for Direct Purchase
Description
The golden age of radio is often recalled as a time when the medium unified the nation, when families gathered around the radios in homes across the country to listen to live, commercially sponsored network broadcasts. In "Points on the Dial," Alexander Russo revises our understanding of radio's past by revealing the hidden histories of production, distribution, and reception practices during this era, which extended from the 1920s into the 1950s. Russo brings to light a tiered broadcasting system with intermingling but distinct national, regional, and local programming forms, sponsorship patterns, and methods of program distribution. Examining a wide range of practices, including regional networking, sound-on-disc transcription, the use of station representatives, spot advertising, and programming aimed at homes with several radios, he not only recasts our understanding of the relationship between national networks and local stations but also charts the development of new ways of listening--often distractedly rather than attentively--that set the stage for radio in the second half of the twentieth century.
About the Author


Alexander Russo is an independent writer and consultant whose writing on education has appeared in the Washington Monthly, Slate.com, Education Next, The Harvard Education Letter, and numerous other publications. Russo is a contributing editor for Catalyst magazine, based in Chicago, and an associate editor for The Title 1 Report, based in Washington, D.C.