90 Miles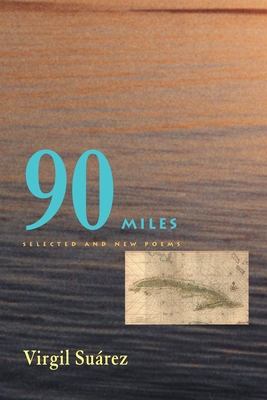 90 Miles
Selected and New Poems
University of Pittsburgh Press, Paperback, 9780822958802, 127pp.
Publication Date: March 23, 2005
* Individual store prices may vary.
Not Currently Available for Direct Purchase
or
Shop Local
Enter your zip code below to purchase from an indie close to you.
Description
Ninety miles separate Cuba and Key West, Florida. Crossing that distance, thousands of Cubans have lost their lives. For Cuban American poet Virgil Suarez, that expanse of ocean represents the state of exile, which he has imaginatively bridged in over two decades of compelling poetry.
"Whatever isn't voiced in time drowns," Suarez writes in "River Fable," and the urgency to articulate the complex yearnings of the displaced marks all the poems collected here. "90 Miles" contains the best work from Suarez's six previous collections: "You Come Singing, Garabato, In the Republic of Longing, Palm Crows, Banyan," and "Guide to the Blue Tongue," as well as important new poems.
At once meditative, confessional, and political, Suarez's work displays the refracted nature of a life of exile spent in Cuba, Spain, and the United States. Connected through memory and desire, Caribbean palms wave over American junk mail. Cuban mangos rot on Miami hospital trays. William Shakespeare visits Havana. And the ones who left Cuba plant trees of reconciliation with the ones who stayed.
Courageously prolific, Virgil Suarez is one of the most important Latino writers of his generation.
About the Author
Virgil Suarez is the author of the short story collection THE SOVIET CIRCUS COMES TO HAVANA (C&R Press, 2014), and the book of poems, IN THE REPUBLIC OF LONGING (Bilingual Review Press, 2000). He teaches in the English department at Florida State University.
Praise For 90 Miles…
"Suarez's voice is a heartbreaking combination of outrage and longing . . . '90 Miles',  a selection of one poet's previous collections of poetry, is a rarity in the industry. That this poet is Latino is additional cause for celebration and  sincere pride."
--El Paso Times
"Virgil Suarez has emerged as a major voice in Cuban American literature, as this collection clearly demonstrates.  Suarez is a poet of praise: for his working-class immigrant parents, for the music of Cuba, for the mangos of his beloved island.  His range of reference is impressive; Li Po, Shakespeare, J. Edgar Hoover, and many others walk through the Habana of his poetic imagination.  Virgil Suarez is a trustworthy guide in this world, and any other."
--Martin Espada
"These poems, at once exuberant and sophisticated, are driven by the desire to preserve. Suárez holds onto the precious country of family, and he skillfully recounts its history. He is constantly aware of his environment, both what it is and what it is not. How the language is his and is not. He explores the magic and wonder of the everyday where everything is new and is not new. This is poetry of grand appetites, longing to take it all in everywhere, to savor the rich sweetness of this world."
--Jim Daniels
"His attention to detail is a delight, and his energetic voice, with the tint of his native tongue, is powerful and compelling. . . . Suárez is one of today's more important Latino voices, and this volume should be included in any serious contemporary poetry collection."
—Library Journal
"The music of the poems oscillates internally between the fluidity of a few Spanish words and the harsher syllables of English, offering a compelling sense of dislocation, true to the book's primary concerns."
—ForeWord Magazine