The Art of Resin Clay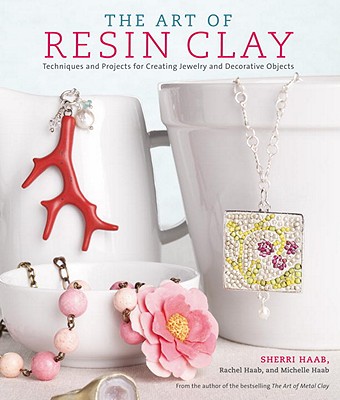 The Art of Resin Clay
Techniques for Creating Jewelry and Decorative Objects
Potter Craft, Paperback, 9780823027231, 144pp.
Publication Date: November 22, 2011
* Individual store prices may vary.
Shop Local
Enter your zip code below to find indies closest to you.
Description
Discover the Creative Possibilities of Resin Clay
 
Imagine being able to imitate the look of rare coral, create oversized but featherweight statement jewelry, or mix clay with other mediums—all without firing. The Art of Resin Clay explores the creative potential of this material, in both air-dry and two-part formulas, and guides you through everything you'll need to get started: 
 
•         Information on choosing the right kind of resin clay, essential tools and techniques, and safety guidelines
•         Tips for mixing colors, finishing, and adding jewelry findings
•         20 projects covering a variety of creative techniques
•         Galleries of work by influential artists and crafts designers who use this versatile material
About the Author
Sherri Haab is a bestselling and award-winning author of crafts books for both adults and kids, with more than 30 titles published. She also has a reputation as an innovative product developer, with an image transfer medium, an electroforming device, and an environmentally safe line of etching products to her credit. As the author of several jewelry technique books for adults, she has led jewelry making workshops all over the country. Sherri's work has been widely published in several jewelry making and kids' magazines, and she's appeared on many crafts TV shows, including JewelryTV (JTV), Jewelry Making with Jackie Guerra (DIY), and Beads, Baubles & Jewels (PBS).

Rachel Haab is the author of "The Hip Handbag Book" and "The Incredible Clay Book."


Michelle Haab is a teenager who has been crafting since she was a toddler. She has worked with Sherri as a craft developer for many books and is the co-author of Dangles and Bangles (WG, 2005). In addition to making fun creations to accessorize her wardrobe and room, she enjoys making films and is one of her high school's cinematographers.