The DC Comics Guide to Digitally Drawing Comics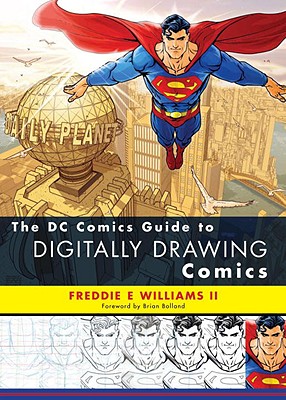 The DC Comics Guide to Digitally Drawing Comics
Watson-Guptill Publications, Paperback, 9780823099238, 144pp.
Publication Date: September 1, 2009
* Individual store prices may vary.
Buy Now
or
Shop Local
Enter your zip code below to purchase from an indie close to you.
Description
At last-the "first" guide to drawing comics digitally Artists Gain incredible superpowers...with the help of your computer "The DC Comics Guide to Digitally Drawing Comics" shows how to give up pencil, pen, and paper and start drawing dynamic, exciting comics art entirely with computer tools. Author Freddie E Williams is one of DC Comics' hottest artists and a leader in digital penciling and inking-and here, in clear, step-by-step directions, he guides readers through every part of the digital process, from turning on the computer to finishing a digital file of fully inked comic art, ready for print. Creating a template, sketching on the computer, penciling, and finally inking digitally are all covered in depth, along with bold, timesaving shortcuts created by Williams, tested by years of trial and error. Step into the digital age, streamline the drawing process, and leap over the limitations of mere physical drawing materials with "The DC Guide to Digitally Drawing Comics.
About the Author


Brian Bolland is best known to US readers for his ground-breaking work with writer Alan Moore on the one-shot Batman: Killing Joke graphic novel. Kevin O'Neill Along with fellow 2000 AD alumni Pat Mills, O'Neill cocreated the cult hero Marshall Law and had even more success when he teamed up with Alan Moore to illustrate The League of Extraordinary Gentlemen - which was adapted into a big budget Hollywood movie starring Sean Connery. Simon Bisley's highly dynamic artwork made his two major series in the Galaxy's Greatest Comic - A.B.C. Warriors: The Black Hole and Slaine: The Horned God - hugely popular, as they remain to date. He also illustrated the hugely successful first Batman/Judge Dredd crossover story, Judgement on Gotham. Steve Dillon is a fan-favourite 2000 AD writer and artist, and the creator of both Hap Hazzard and the Irish Judge Joyce. Together with 2000 AD writer Garth Ennis, Steve co-created the hugely successful and critically acclaimed Preacher for DC Comics' imprint, Vertigo.