Flip, Float, Fly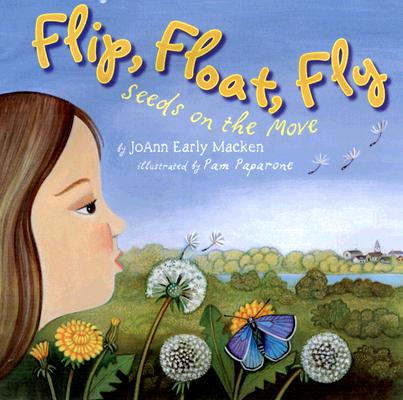 Flip, Float, Fly
Seeds on the Move
Holiday House, Hardcover, 9780823420438, 32pp.
Publication Date: March 15, 2008
* Individual store prices may vary.
Buy Now
or
Shop Local
Enter your zip code below to purchase from an indie close to you.
Description
Fans of From Seed to Plant, a perennial seller by Gail Gibbons, will want this lushly illustrated picture book. A gust of wind lifes a maple seed, sending it spinning like a shiny green helicopter throught the sky. Where wil it land? From splashing away in a raindrop to scurrying with scampering squirrels to hitching rides on your sleeves and socks, seeds have many ingenious ways to traveling to new laces, growing roots, and beginning the cycle again.
About the Author
This is JoAnn Early Macken's first book for Viking. She lives in Shorewood, Wisconsin, with her family. LeUyen Pham has illustrated several picture books for young readers, including "One Little Mouse,"

Reeve Lindbergh, daughter of aviator Charles Lindbergh and poet Anne Morrow Lindbergh, first learned about Bessie Coleman in 1986, the 60th anniversary of her father's famous flight. ""Bessie was an incredibly brave person who was hardly noticed, while my parents got so much publicity it was difficult for them to live their normal lives. I saw a crazy imbalance and wanted to try to set things right."" Reeve Lindbergh lives in Vermont.
Pamela Paparone observes that NOBODY OWNS THE SKY is ""about making dreams come true. My own dream has always been to be a children's book illustrator. In fact, I was ten years old when I created my first children's book. I dedicated it to Johnny Cash."" Pamela Paparone lives in Pennsylvania.