11 Principles of a Reagan Conservative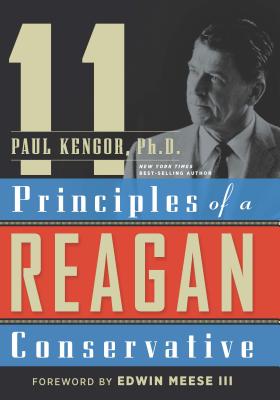 11 Principles of a Reagan Conservative
Beaufort Books, Hardcover, 9780825306990, 159pp.
Publication Date: March 2, 2014
* Individual store prices may vary.
Buy at Local Store
Enter your zip code below to purchase from an indie close to you.
or
Not Currently Available for Direct Purchase
Description
Perhaps no other president's name is invoked by politicians as much as Ronald Reagan's. Every election, as presidential hopefuls jockey for the Republican nomination, each one claims to be a Reagan conservative. But are these candidates truly carrying on the mantle of Ronald Reagan, or are they abusing the memory of our great president? What did Ronald Reagan really believe? In 11 Principles of a Reagan Conservative, biographer Paul Kengor analyzes Ronald Reagan's speeches and actions to paint a full, accurate picture of his beliefs. Kengor identifies these principles that lie at the crux of Reagan's conservatism; Freedom, Faith, Family, Sanctity and Dignity of Human Life, American Exceptionalism, The Founders' Wisdom and Vision, Lower Taxes, Limited Government, Peace Through Strength, Anti-Communism, and Belief in the Individual. And it is through these principles that Reagan's modern emulators may create a successful, conservative future.
Many a politician has asked: What would Reagan do if he were president now? Where would Reagan stand on today's issues? Who is the next Ronald Reagan? Paul Kengor dissects Reagan's presidency and provides decisive conclusions. The answers to some of these questions may surprise conservatives and liberals alike.
About the Author
Paul Kengor is the author of the New York Times extended-list bestseller God and Ronald Reagan as well as God and George W. Bush and The Crusader. He is a professor of political science and director of the Center for Vision and Values at Grove City College. He lives with his wife and children in Grove City, Pennsylvania.

Matthew Spalding is the director of the B. Kenneth Simon Center for American Studies at The Heritage Foundation, where he is also the policy director of the First Principles Initiative. He is the author and editor of several books, the most recent being "We Stil Hold These Truths: Rediscovering Our Principles, Reclaiming Our Future."