Mark Twain Himself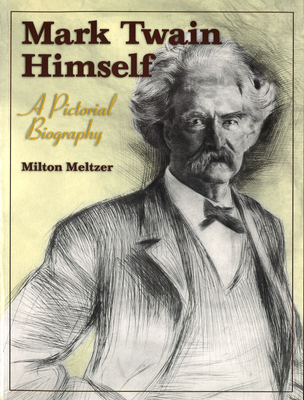 Mark Twain Himself
A Pictorial Biography
University of Missouri Press, Paperback, 9780826214126, 303pp.
Publication Date: July 9, 2002
* Individual store prices may vary.
Buy at Local Store
Enter your zip code below to purchase from an indie close to you.
or
Not Currently Available for Direct Purchase
Description
Mark Twain's life one of the richest and raciest America has known is delightfully portrayed in this mosaic of words and more than 600 pictures that capture the career of one of America's most colorful personalities. The words are Twain's own, taken from his writings not only the autobiography but also his letters, notebooks, newspaper reporting, sketches, travel pieces, and fiction. The illustrations provide the perfect counterpoint to Twain's text. Presented in the hundreds of photos, prints, drawings, cartoons, and paintings is Twain himself, from the apprentice in his printer's cap to the dying world-famous figure finishing his last voyage in a wheelchair. "Mark Twain Himself: A Pictorial Biography "will not only inform and entertain the casual reader but will provide a valuable resource to scholars and teachers of Twain as well.
About the Author
Milton Meltzer has written 110 books, five of which were nominated for the National Book Award. With Langston Hughes, he coauthored A PICTORIAL HISTORY OF AFRICAN AMERICANS, now in its sixth edition. He received the 2001 Laura Ingalls Wilder Award for his contribution to children's literature, the 1986 Jane Addams Peace Association Children's Book Award, and the 2000 Regina Medal. He lives in New York City.

Shelley Fisher Fishkin is Joseph S. Atha Professor of Humanities, Professor of English and Director of American Studies at Stanford University. She is the author of "Lighting Out for the Territory: Reflections on Mark Twain and American Culture "(1997); "Was Huck Black? Mark Twain and African-American Voices "(1993), selected as an Outstanding Academic Book by "Choice; "and "From Fact to Fiction: Journalism and Imaginative Writing in America "(2000), winner of a Frank Luther Mott/Kappa Tau Alpha Award for outstanding research in journalism history. She is also the editor of the 29-volume "Oxford Mark Twain "and the "Oxford Historical Guide to Mark Twain. "Barry Moser is one of the foremost wood engravers in the United States and is the proprietor of the Pennyroyal Press. Among other books, he illustrated "Huckleberry Finn "(California, 1985), "Moby Dick "(California, 1981), "Dante's Inferno "(California 1980), "Purgatorio "(California, 1981), and "Paradiso "(California, 1984), and the "Holy Bible "(1999). The Mark Twain Project is housed within the Mark Twain Papers, the world's largest archive of primary materials by this major American writer. Under the direction of General Editor Robert H. Hirst, the Project's five editors are producing the first comprehensive edition of all Mark Twain's writings, more than thirty volumes of which have so far been published by the University of California Press.
Praise For Mark Twain Himself…
"This book would have delighted Mark Twain. He never shrank from the limelight, and here is a sumptuous 300-page quarto devoted to picture and letter-press covering almost every highlight of his long and varied career."—New York Times
"There can be no doubt that this is a book no lover of Mark Twain will wish to be without."—Chicago Tribune
"[Readers] will find here much they have not seen before. . . . Mr. Meltzer's ingenuity in finding materials is particularly striking in his illustrations for the difficult early period, before the camera was in general use and before anyone considered the image of Sam Clemens worth preserving for posterity. . . . Meltzer has done his work well."—New York Herald Tribune
"This book is for leisure hours and quiet meditation. It brings back the life and times of Mark Twain, our greatest humorist, and it holds up as a mirror the early days of our country. It should inspire and help us preserve our priceless heritage of freedom."—Hartford Courant
"Mark Twain Himself ranks as one of the most entertaining works ever produced about one of America's most influential writers. . . . Milton Meltzer has assembled an impressive number of previously unpublished photographs of Mark Twain, his family, the people he knew or wrote about, and the places he saw."—San Francisco Sunday Chronicle