The Dangerous Act of Worship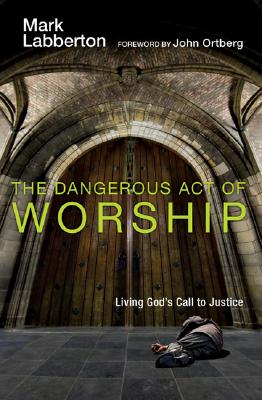 The Dangerous Act of Worship
Living God's Call to Justice
IVP Books, Hardcover, 9780830833160, 200pp.
Publication Date: January 16, 2007
* Individual store prices may vary.
Buy at Local Store
Enter your zip code below to purchase from an indie close to you.
or
Not Currently Available for Direct Purchase
Description
What's at stake in our worship? Everything. Worship is the dangerous act of waking up to God and God's purposes in the world. But something has gone wrong with our worship. Too often worship has become a place of safety and complacency, a narrowly private experience in which solitary individuals only express their personal adoration. Even when we gather corporately, we often close our eyes to those around us, focusing on God but ignoring our neighbor. But true biblical worship does not merely point us upward--it should turn us outward as well. In this prophetic wake-up call for the contemporary church, pastor Mark Labberton reconnects Christian worship with biblical justice. From beginning to end, worship must pursue justice and seek righteousness, translating into transformed lives that care for the poor and the oppressed. Labberton shows how to move beyond the comfort of safe worship to authentic worship that is awake to the needs of the world.
About the Author
Mark Labberton is president of Fuller Theological Seminary in Pasadena, California. He previously served as Lloyd John Ogilvie chair for preaching and director of the Lloyd John Ogilvie Institute for Preaching. Labberton came to Fuller after sixteen years as senior pastor of First Presbyterian Church of Berkeley, California. He has served as chair of John Stott Ministries (now Langham Partnership) and co-chair of the John Stott Ministries Global Initiative Fund. Today he continues to contribute to the mission of the global church as a senior fellow of International Justice Mission. He is the author ofThe Dangerous Act of Loving Your Neighbor and The Dangerous Act of Worship

John Ortberg is the senior pastor of Menlo Park Presbyterian Church (MPPC) in the San Francisco Bay Area. His bestselling books include Soul Keeping, Who Is This Man?, and If You Want to Walk on Water, You ve Got to Get out of the Boat. John teaches around the world at conferences and churches, writes articles for Christianity Todayand Leadership Journal, and is on the board of the Dallas Willard Center and Fuller Seminary. He has preached sermons on Abraham Lincoln, The LEGO Movie, and The Gospel According to Les Miserables. John and his wife Nancy enjoy spending time with their three adult children, dog Baxter, and surfing the Pacific. You can follow John on twitter @johnortberg or check out the latest news/blogs on his website at www.johnortberg.com.