Longing for God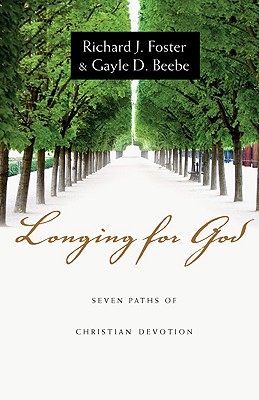 Longing for God
Seven Paths of Christian Devotion
IVP Books, Hardcover, 9780830835140, 364pp.
Publication Date: March 2009
* Individual store prices may vary.
Shop Local
Enter your zip code below to find indies closest to you.
Description
2010 Golden CanonLeadership Book Award winner Think of the moment you last experienced God. Do you know him that closely in this moment? Truly experiencing the love of God gives us a taste of his goodness and his love for us, but often those moments are fleeting. We get distracted by life. Our awareness and understanding fade while our longing to experience him that way again increases. In these pages you can begin to fill that longing by developing your capacity to receive and respond to God's love. Spiritual formation is the process through which one's inner self is opened to the work of the Holy Spirit, who forms us into the image of the Son. Here Richard Foster and Gayle Beebe, both experienced leaders in spiritual formation, introduce you to people from the past who have known God deeply. Each person helps you to grasp one of the seven primary paths to intimacy with God that have been developed throughout Christian history. Chapters are divided into sections, each segment surrounding a key figure and concluding with a reflection and prayer. This rich resource can guide you into the same deep intimacy with God, opening you to the Spirit's work of transformation.
About the Author
Richard J. Foster is the author of several acclaimed books on the spiritual life, including "Celebration of Discipline, " which was named one of the top ten books of the twentieth century by "Christianity Today" and has sold over one million copies.

David McKenna served as president of Spring Arbor University, Seattle Pacific University, and Asbury Theological Seminary. At the age of eighty-five he continues to write a book a year, including The Communicator's Commentary on Isaiah, Job, and Mark; Retirement Is Not for Sissies; Christ-Centered Leadership: The Incarnational Difference; and When God Laughs with Us: The Lighter Side of Leadership. David and his wife, Jan, celebrate sixty-five years of marriage in 2015.