Eat with Joy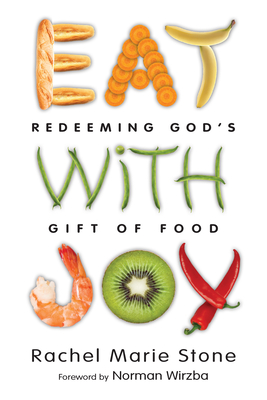 Eat with Joy
Redeeming God's Gift of Food
IVP Books, Paperback, 9780830836581, 205pp.
Publication Date: February 2013
* Individual store prices may vary.
Buy Now
or
Shop Local
Enter your zip code below to purchase from an indie close to you.
Description
The 2014 Christianity Today Book Award Winner (Christian Living) Food is the source of endless angst and anxiety. We struggle with obesity and eating disorders. Reports of agricultural horror stories give us worries about whether our food is healthy, nutritious or justly produced. It's hard to know if our food is really good for us or for society. Our relationship with food is complicated to say the least. But God intended for us to delight in our food. Rachel Stone calls us to rediscover joyful eating by receiving food as God's good gift of provision and care for us. She shows us how God intends for us to relate to him and each other through food, and how our meals can become expressions of generosity, community and love of neighbor. Eating together can bring healing to those with eating disorders, and we can make wise choices for sustainable agriculture. Ultimately, redemptive eating is a sacramental act of culture making through which we gratefully herald the feast of the kingdom of God. Filled with practical insights and some tasty recipes, this book provides a Christian journey into the delight of eating. Come to the table, partake of the Bread of Life and eat with joy.
About the Author
Rachel Marie Stone is also the author of Eat With Joy: Redeeming God's Gift of Food. Her work has been published in The Huffington Post, Relevant, Books & Culture, and Christianity Today. She, her husband, and their two sons live in the Republic of Malawi, where she teaches writing.

Norman Wirzba (PhD, Loyola University, Chicago) is professor of theology and ecology at Duke University Divinity School in Durham, North Carolina. He is the author or editor of numerous books, including "Food and Faith: A Theology of Eating", "Living the Sabbath", "Making Peace with the Land" (coauthored with Fred Bahnson), "The Essential Agrarian Reader", "The Paradise of God: Renewing Religion in an Ecological Age", and "The Art of the Commonplace: The Agrarian Essays of Wendell Berry".