Following Jesus Through the Eye of the Needle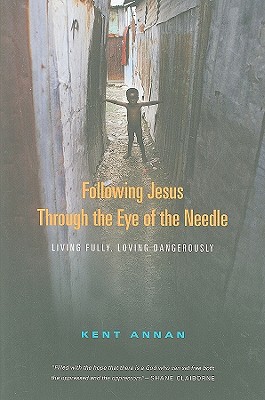 Following Jesus Through the Eye of the Needle
Living Fully, Loving Dangerously
IVP Books, Paperback, 9780830837304, 206pp.
Publication Date: November 2009
* Individual store prices may vary.
Shop Local
Enter your zip code below to find indies closest to you.
Description
In 2003 Kent Annan left behind his prosperous, comfortable upbringing to face the world beyond its gates, where people wear his cast-off clothing and seek comfort from the heat in the long shadow of his homeland. Haiti, apparently, was where God wanted him. Of course, just because God wants you somewhere doesn't mean it's going to be easy. Little did he know how important his work would be. Now, in the aftermath of the 2010 earthquake, Annan's experience living and working in Haiti has become a powerful resource for those looking to learn more about this amazing country and find out how they can help Haiti rebuild and thrive. In this book you'll enter into Annan's experience traveling and working in Haiti, and ultimately you'll be challenged to follow God into uncharted territory on a path that may lead to your local soup kitchen--or to a Haitian relief settlement. Either way, you'll learn what it means to become vulnerable in order to help others and share the embodied love of Christ. ReadFollowing Jesus Through the Eye of the Needle for a vivid picture of the Haiti Annan knows, the good work happening there through organizations like Haiti Partners, and the ways you can get involved. Whether you go or stay, you'll get a fresh sense of what it means to love God and love our neighbor when love is uncomfortable, even dangerous; to see what happens when God stretches you beyond your borders into his kingdom.
About the Author
Kent Annan is codirector of Haiti Partners, a nonprofit focused on education in Haiti. He's worked in Haiti since 2003-living there some of the time and now traveling there regularly from Florida, where he lives with his wife and two children. Annan has spent many of his post-formal-education years going back and forth between North America and working with people who were in different and difficult situations around the world. After receiving his four year degree, Annan worked for two years in western Europe helping refugees from the former Yugoslavia, Iran, Sierra Leone and other countries. Soon he returned for three years of seminary at Princeton, during which he spent three months studying in India. Upon graduation, he moved to Albania and then Kosovo to work with refugees there. Later he moved back to Princeton to work (and for love!)-and a few years later he and his newly acquired wife moved to Haiti for two and a half years. All of these experiences have helped inform Annan's writing and life mission. Ultimately he wants to help people in need as he tries to work out what their lives have to do with ours here in the U.S. His book, Following Jesus Through the Eye of the Needle, tells the story of his move to Haiti and weaves together the nitty gritty joys and stumbles of living and ministering in a two-thirds world environment with reflections about faith, doubt, love and God. Currently the work in Haiti continues to grow. People face incredible daily struggles, but Haiti Partners is investing in education so that Haitians can improve their own situations-and children will grow up with better lives. For more information on Annan's work with Haiti Partners, visit haitipartners.org.