Akira Kurosawa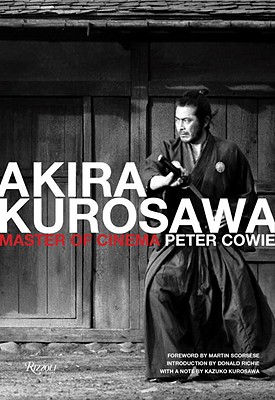 Akira Kurosawa
Master of Cinema
Rizzoli, Hardcover, 9780847833191, 304pp.
Publication Date: March 9, 2010
* Individual store prices may vary.
Not Currently Available for Direct Purchase
or
Shop Local
Enter your zip code below to purchase from an indie close to you.
Description
The most lavishly produced and profusely illustrated volume on Akira Kurosawa ever published, timed for the centennial of his birth. Akira Kurosawa is arguably the greatest of all Japanese film directors and is respected around the world as one of the masters of the art form. This is the first illustrated book to pay tribute to his unmistakable style—with more than two hundred images, many never before published. The filmmaker is also famous for his attention to detail, and fans will delight in seeing annotated script pages, sketches, and storyboards that reveal the meticulous craft behind Kurosawa's genius. Peter Cowie examines how Kurosawa took the samurai genre to its apogee in such films as Yojimbo and Seven Samurai; his literary influences in such films as Throne of Blood [Macbeth] and Ran [King Lear]; and in his take on our relationship to the modern world in such films as High and Low and Dreams. "Akira Kurosawa is one of the greatest directors ever to work in the cinema. His films meant an enormous amount to me when I was starting my own career, and it's fitting that in the year of his centennial this book by Peter Cowie should pay tribute to him."—Francis Ford Coppola
About the Author
Peter Cowie is a film historian and the author of Louise Brooks and Joan Crawford. Formerly the international director of Variety, he now serves as consultant for the Berlin Film Festival and contributes commentaries for Criterion Collection releases. Donald Richie is the world's foremost expert on Kurosawa and is the author of many books on Japanese culture, including The Inland Sea and The Japanese Film. Kazuko Kurosawa, the daughter of the director, is a costume designer whose credits include more than fifteen films, including Akira Kurosawa's Dreams.
Praise For Akira Kurosawa…
"The homage best suited for you coffee table comes from film historian Peter Cowie ... a visually stunning study of the director's work." ~Details

"A book of value to Kurosawa novices and to aficionados in search of deeper insight. Beautifully bound and printed, and lavishly illustrated ... it's a book worthy of its subject." ~San Francisco Chronicle

"The quiet, quotidian aspect of Kurosawa's art gets a nice push in the impressively lavish.  We're talking stacks of high-grade stills, notes, mockups Akira Kurosawa: Master of Cinema." ~Atlantic Monthly

"This is the definitive visual chronicle of a great artist." ~Palm Beach Post

"Akira Kurosawa: Master of Cinema by Peter Cowie is the most lavishly produced and profusely illustrated volume on Akira Kurosawa ever published." ~Turner Classic Movies

"The question that must be answered is whether there is enough new material in Akira Kurosawa: Master of Cinema to justify its steep price. Is there enough new material to make it worth a purchase? The answer for any serious Kurosawa fan is an emphatic yes, not only because of the soundness of Cowie's commentary, but also because of the hundreds of gorgeous images that supplement it." ~American Cinematographer