Horses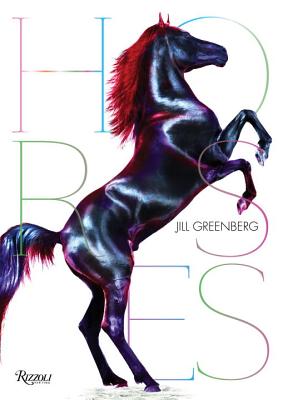 Horses
Rizzoli International Publications, Hardcover, 9780847838660, 216pp.
Publication Date: October 2, 2012
* Individual store prices may vary.
Buy Now
or
Shop Local
Enter your zip code below to purchase from an indie close to you.
Description
Best known for her amazingly anthropomorphic and affectionate portraits of monkeys and bears, Jill Greenberg turns her lens to horses for her new photographic collection. This is the perfect gift for every horse lover. In this beautifully conceived volume, Jill Greenberg captures the powerful, romantic, and enigmatic nature of horses through her signature lens in photographs that make these animals all the more otherworldly yet familiar. Where Greenberg's earlier books explored the mystery and depth of emotion behind some of nature's most dangerous creatures (Kodiak and polar bears, baboons, and gibbons, among others), Horses is an elegiac exploration of these heroic and often idealized creatures. Transformed by Greenberg's lens, the horse's powerful physical beauty becomes a hyper-real vision, and her gorgeous prints seduce us in a subtle manner with their sensuous, painterly textures. Horses were Greenberg's first muse and love, and for this portfolio she returns to her original inspiration.Featuring stunning photographs of a range of horse breeds, from Friesians and Andalusians to Arabian stallions, Lusitanos, and thoroughbred performance horses, this book is a gorgeous tribute to these spirited and powerful creatures and the perfect gift for those officially and unofficially devoted to horses, horseback riding, and racing.
About the Author
A.M. Homes is the author of the novels The End of Alice, In a Country of Mothers, and Jack, as well as the short-story collection The Safety of Objects and the artist's book Appendix A. Her fiction has been translated into eight languages, and she is the recipient of numerous awards, including a Guggenheim Fellowship and a National endowment for the Arts Fellowship. Her fiction and nonfiction appear in magazines such as The New Yorker and Artforum, among others, and she is a contributing editor at Vanity Fair, Mirabella, Bomb, Blind Spot, and Story. She teaches in the writing programs at Columbia University and The New School and lives in New York City.

JOHN J. TRAUSE, Director of Oradell Public Library in Oradell, New Jersey, since 2010 and formerly Director of the Wood-Ridge Memorial Library in Wood-Ridge, New Jersey, from 2000 to 2010, has been writing and reciting his poetry for over thirty years. The Serials Librarian (seriously) at the Museum of Modern Art Library from 1991 to 2000, and a participant in The MoMA Strike of 2000, he has been an active part of the New York art scene as well as an avid devotee of avant-garde public raucousness.

His poetry, translations, and visual work have appeared in "Cover", "Global City Review", "Parse", "Radix", "The Rift", "Now Culture", "Sensations Magazine", "The North River Review", "The Troubadour", "Xavier Review", the artists' periodical "Crossings" published by the Brooklyn Waterfront Artists Coalition, as well as online in "The Pedestal Magazine" and "Sidereality", and many other print and online journals and anthologies, published nationally and internationally. His monumental performance poem "Ishtar Redux" was staged in 2013 at La MaMa Experimental Theater, and in 2001 at the renovated Journal Square Loews Theatre in Jersey City, New Jersey. His "Latter-Day Litany and Other Pseudo-Hagiographica" has had a number of revivals after its New York debut in 1998, most recently in 2004 at the Bickford Theatre at the Morris Museum, Morristown, New Jersey. In 2005 and again in 2006, Mr. Trause was featured at Stevens Institute in Hoboken, New Jersey, in the Visible Word exhibition which paired poets with visual artists. In 2005 he co-founded the William Carlos Williams Poetry Cooperative in Rutherford, New Jersey, where he served as programmer and host until 2012.

Aside from his professional interest in literature and the arts, Mr. Trause also enjoys film, dance, juggling, hiking, Chinese footbinding, and Afrin(r) nasal spray. In his adolescence, he modeled for the monolithic sculptures on Easter Island.
Praise For Horses…
"Romantic, powerful and mysterious, these beautiful creatures are at their best in these striking photographs by Greenberg, which emphasize their heroic, even mythical, stature." ~Women's Wear Daily

"THIS IS NOT your daughter's pretty pony book. The subjects, selected for their musculature, look carved from onyx and marble.." ~Los Angeles Magazine
 
"Jill Greenberg captures the beauty and strength of the magnificent creatures. Greenberg revisits her lifelong fascination with horses to create stunning images of her equine subjects." ~Four Seasons
 
"..the book is a closer look at the history and symbolism of horses in ways that deserve your undivided attention." ~Complex

"Greenberg captures horses' primal beauty by homing in on tiny details, eyes, manes, taut muscles" ~Entertainment Weekly