The Beck Diet Solution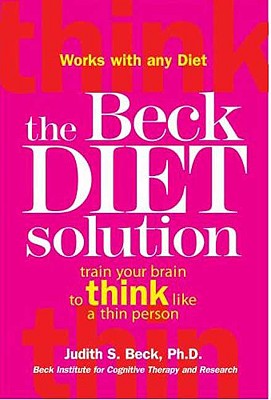 The Beck Diet Solution
Train Your Brain to Think Like a Thin Person
Oxmoor House, Hardcover, 9780848731731, 288pp.
Publication Date: March 1, 2007
* Individual store prices may vary.
Buy at Local Store
Enter your zip code below to purchase from an indie close to you.
or
Not Currently Available for Direct Purchase
Description
This time, its going to be different. This time, you are going to diet successfully, lose weight with confidence, and, most importantly, keep it off forever. That's because The Beck Diet Solution is the first book that teaches dieters how to apply the proven benefits of Cognitive Therapy to dieting and weight loss: how to think differently, change your eating behavior, and lose weight permanently. In fact, Cognitive Therapy is the only psychological method shown to help dieters keep off excess weight once they lose it. The Beck Diet Solution will change the way you think about eating and weight loss forever! Written by world-expert Cognitive Therapist Dr. Judith S. Beck, The Beck Diet Solution is a remarkable six-week program that gives you all the tools you need to train your brain to think like a thin person. This breakthrough approach, which works in tandem with any nutritional diet plan shows you how to make the kinds of positive, long-term thinking and behavioral changes necessary to lose weight and to maintain your weight loss, not just for the short run but for the rest of your life! Simply put: The Beck Diet Solution teaches you the skills you need to diet successfully and to keep the weight off permanently.
You will discover Dr. Beck's strategies for ensuring long-term weight loss based on over 20 years of successfully coaching dieters in her practice including ways to:
Learn to stick to any diet.
Make cravings go awayfast!
Resist tempting foods.
Deal with trigger eating situations.
Say, No, thank you, to food pushers.
Put an end to emotional eating.
Conquer every excuse to overeat.
Find time to exercise.
Lose weight and keep it off for a lifetime! Give yourself the mental and emotional foundation you need to succeed with The Beck Diet Solution.
About the Author
Judith S. Beck, Ph.D., is the New York Times bestselling author of The Beck Diet Solution, president of the nonprofit Beck Institute for Cognitive Behavior Therapy in Philadelphia, and clinical associate professor of psychology in psychiatry at the University of Pennsylvania. She has written over a hundred articles and books and has served as a consultant for several National Institute of Mental Health studies. Dr. Beck has presented hundreds of workshops nationally and internationally on various applications of cognitive therapy, including weight loss and maintenance. She has a clinical practice, supervises clinicians, and provides consultation to organizations.

Aaron Temkin Beck, M.D. is the father of Cognitive Therapy, having created and refined cognitive therapy over the course of his research and clinical career. He has published more than 600 scholarly articles and 25 books and has developed widely-used assessment scales. He has received many prestigious awards including the 2006 Albert Lasker Clinical Medical Research Award for developing cognitive therapy, which fundamentally changed the way that psychopathology is viewed and its treatment is conducted. On October 23, 2013, Dr. Aaron T. Beck became the first recipient of the Kennedy Community Health Award from the Kennedy Forum. This award marks the 50th anniversary of Community Mental Health Act the last piece of legislation that was signed by President John F. Kennedy which transformed the way mental illness was treated. Dr. Beck was honored as the father of cognitive therapy and as one of the most influential individuals within the community of mental health. He has been listed as one of the "10 individuals who shaped the face of American Psychiatry" and one of the 5 most influential psychotherapists of all time. Dr. Beck is an emeritus professor in the Department of Psychiatry at the University of Pennsylvania and the director of the Aaron T. Beck Psychopathology Research Center. His current research focuses on cognitive therapy for schizophrenia, cognitive therapy for suicide prevention, and dissemination of cognitive therapy into community settings.