The New Atheist Crusaders and Their Unholy Grail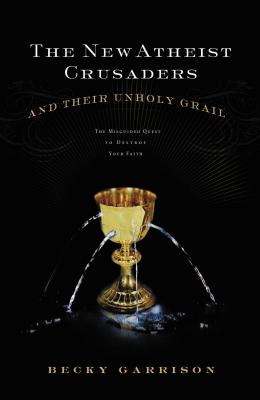 The New Atheist Crusaders and Their Unholy Grail
The Misguided Quest to Destroy Your Faith
Thomas Nelson, Paperback, 9780849919725, 256pp.
Publication Date: January 1, 2008
* Individual store prices may vary.
Not Currently Available for Direct Purchase
or
Shop Local
Enter your zip code below to purchase from an indie close to you.
Description
A challenge has been issued on matters of faith and Becky Garrison meets it head on in this witty yet poignant answer to the Anti-God gurus Richard Dawkins, Sam Harris, and Daniel Dennett.
Becky Garrison, religious satirist and senior contributing editor for "The Wittenberg Door," is taking a stand. Where most Christians assume the character of the Cowardly Lion chanting, "I do believe, I do believe, I do believe," Garrison refuses to simply thrust tracts at these self-proclaimed infidels.
Instead, Garrison steels her pen and takes on the ungodly program of the New Atheists, skewering each argument with her sharp satiric wit. Garrison turns aside the atheists' assault without ignoring its real criticisms, namely, the church's inadequate response to war, evolution, medical ethics, social justice, and other important issues in the post-9/11 world.
About the Author
Becky Garrison is a Contributing Editor for Sojourners. Her books include The New Atheist Crusaders and Their Unholy Grail, Rising from the Ashes: Rethinking Church, and Red and Blue God, Black and Blue Church. Her additional writing credits include work for The Wittenburg Door, Geez, Killing the Buddha, and Religion Dispatches, as well as various other odd and sundry publications.