Same Kind of Different as Me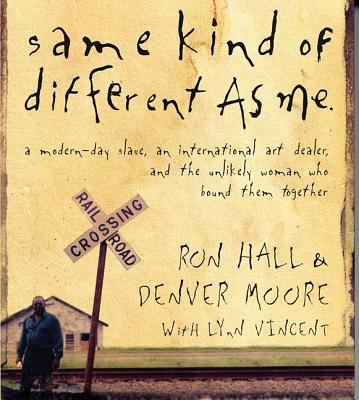 Same Kind of Different as Me
A Modern-Day Slave, an International Art Dealer, and the Unlikely Woman Who Bound Them Together
Thomas Nelson Publishers, Compact Disc, Abridged, 9780849963957, 3pp.
Publication Date: October 30, 2007
* Individual store prices may vary.
Buy at Local Store
Enter your zip code below to purchase from an indie close to you.
or
Not Currently Available for Direct Purchase
Description
"A dangerous, homeless drifter who grew up picking ""cotton in virtual slavery.""An upscale art dealer accustomed to the world""of Armani and Chanel.""A gutsy woman with a stubborn dream.""A story so incredible no novelist would dare dream it."
It begins outside a burning plantation hut in Louisiana. . . and an East Texas honky-tonk . . .and, without a doubt, in the heart of God. It unfolds in a Hollywood hacienda . . . an upscale New York gallery . . . a downtown dumpster. . . a Texas ranch.
Gritty with pain and betrayal and brutality, it also shines with an unexpected, life-changing love.
This incredible retelling now includes an interview with the authors and a reader's guide that is perfect for individual or group study.
The most inspirational and emotionally gripping story of faith, fortitude, and friendship I have ever read. A powerful example of the healing, restorative power of forgiveness and the transformational, life changing power of unconditional love.--Mark Clayman, Executive Producer forthe Academy Award-nominated"The Pursuit of Happyness"
Denver Moore and Ron Hall's story is one thatmoved me to tears. The friendship that formsbetween these two men at a time when both were ingreat need is an inspiration to all of us to be morecompassionate to everyone we come in contact with. This is truly a wonderful book --Mrs. Barbara Bush.
About the Author
Nicholas Tomalin was literary editor for the "New Stateman" and a featured columnist for the "Daily Express," the "Sunday Times," and the "Evening Standard" of London. He was nominated Reporter of the Year for his coverage of the war in Vietnam.
Ron Hall is a leading British journalist. He was cofounder of the "Sunday Times"' (London) "Insight," where he was editor from 1964 - 66, and he became joint managing editor of the "Sunday Times" in 1969.
Jonathan Raban is a Fellow of the Royal Society of Literature, the editor of "The Oxford Book of the Sea," and author of ten critically acclaimed books, including "Passage to Juneau," He is the winner of the National Book Critics Circle Award and the Heinemann Award for Literature, and received the "New York Times" Editors' Choice for Book of the Year for "Old Glory" and "Bad Land," He has been called (by "The Guardian") "the finest writer afloat since Conrad."
Denver Moore served as a volunteer at the Fort Worth Union Gospel Mission until his death in March 2012.
Dan Butler, an actor, writer, director, and producer, has had major roles on and off Broadway and has appeared in numerous television shows, including "Frasier", "House", and "Monk. "He cowrote and directed" Karl Rove, I Love You", and has appeared in such feature films as "Crazy, Stupid, Love"; "Silence of the Lambs"; "Enemy of the State"; and "Fixing Frank", among others.