Byzantine Armies 886-1118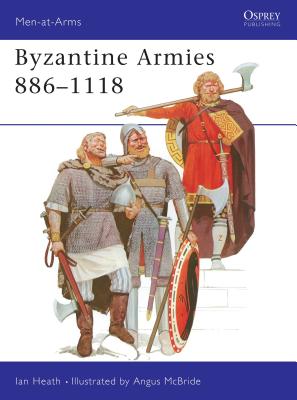 Byzantine Armies 886-1118
Osprey Publishing (UK), Paperback, 9780850453065, 48pp.
Publication Date: July 1979
* Individual store prices may vary.
Shop Local
Enter your zip code below to find indies closest to you.
Description
The Byzantines had a remarkably sophisticated approach to politics and military strategy. Unlike most of their contemporaries, they learnt very early in their history that winning a battle did not necessarily win a war, and they frequently bought off their enemies with treaties and bribes rather than squander men and matériel in potentially fruitless campaigns. The Byzantine army of the 10th and early 11th centuries, at the height of its power and efficiency, was the best-organised, best-trained, best-equipped and highest-paid in the known world. This splendid book by Ian Heath examines the Byzantine Armies from 886-1118, including the lusty, hard-fighting, hard-drinking 'barbarian' Varangian guard.
About the Author
Ian Heath is a highly respected author, and has written a number of Osprey titles, including MAA 89 Byzantine Armies 886-1118, MAA 287 Byzantine Armies 1118-1461 and MAA 275 The Taiping Rebellion 1851-66. He is also currently working on a five-volume project covering the armies of 19th-century Asia. Ian lives and works in Cambridgeshire, UK.

Angus McBride is one of the world's most respected historical illustrators, and has contributed to more than 70 Osprey titles in the past three decades. Born in 1931 of Highland parents but orphaned as a child, he was educated at Canterbury Cathedral Choir School. He worked in advertising agencies from 1947, and after national service, emigrated to South Africa. He now lives and works in Cape Town.