Empire State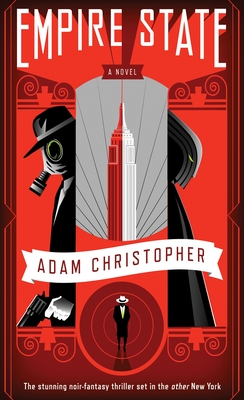 Empire State
Angry Robot, Paperback, 9780857661937, 445pp.
Publication Date: December 27, 2011
* Individual store prices may vary.
Buy Now
or
Shop Local
Enter your zip code below to purchase from an indie close to you.
Description
THE EMPIRE STATE IS THE OTHER NEW YORK. A parallel-universe, Prohibition-era world of mooks and shamuses that is the twisted magic mirror to our bustling Big Apple, a place wheresinister characters lurk around every corner while the great superheroes that once kept the streets safe have fallen into dysfunctional rivalries and feuds. Not that its colourful residents know anything about the real New York until detective Rad Bradley makes a discovery that will change the lives of all its inhabitants. Playing on the classic Gotham conventions of the Batman comics and HBO's Boardwalk Empire, debut author Adam Christopher has spun this smart and fast-paced superhero-noir adventure, the sort of souped-up thrill ride that will excite genre fans and general readers alike.
File Under: Science Fiction Pocket Universe - Heroes or Villains - Speak Easy - Loyalties Divided ]
e-book ISBN: 978-0-85766-194-4.
About the Author
ADAM CHRISTOPHER is a novelist and comic writer. In 2010, as an editor, Christopher won a Sir Julius Vogel award, New Zealand s highest science fiction honor. His debut novel, Empire State, was SciFiNow s Book of the Year and a Financial Times Book of the Year for 2012. In 2013, he was nominated for the Sir Julius Vogel award for Best New Talent, with Empire State shortlisted for Best Novel. His other novels include Seven Wonders and The Age Atomic. Born in New Zealand, he has lived in the United Kingdom since 2006.
Praise For Empire State…
"Adam Christopher's debut novel is a noir, Philip K Dick-ish science fiction superhero story… As captivating as a kaleidoscope… just feel it in all its weird glory." - Cory Doctorow, New York Times bestselling author of Little Brother
 
"A fascinating debut novel that meshes noir sensibilities and science fiction together and keeps the reader guessing throughout. Adam Christopher handles in intricacies of parallel worlds, time travel and suspense with a skill lacking in many more-seasoned authors." - Mike Stackpole, New York Times bestselling author of I, Jedi
 
"Adam Christopher maintains a punchy, bestseller prose style that keeps the action rocketing along, and protagonists that seem right both in their own setting, and appropriate to what we already recognise as super heroes.  Empire State is an excellent, involving read, and it fully deserves to be the start of a new universe." - Paul Cornell, DC Comics and Dr Who writer
 
"Down these steam driven streets a man must go... straight into a pocket universe of trouble. Brutal, knowing and deft, Adam Christopher delivers." - Jon Courtenay Grimwood

"Stylish, sinister, and wickedly fun, Empire State is not your average sexy retro parallel universe superhero noir." - Lauren Beukes, award-winning author of Zoo City
 
"Destined to be a science fiction classic, Empire State is a breathtakingly original noir tale of intrigue, mystery, and quantum physics, deftly played out in storytelling so brilliant I'm finding it hard not to hate the author." - Diana Rowland, author of My Life as a White Trash Zombie
 
"From first to last page, Adam Christopher's Empire State careens along at a furious pace. Along the way, he beautifully meshes the best noir tropes with science fiction and wraps it up in a world (or two) that rivals some of the classics of speculative fiction." - John Hornor Jacobs, Author of Southern Gods
 
"A daring, dreamlike, almost hallucinatory thriller, one that plays with the conventions of pulp fiction and superheroes like a cat with a ball of yarn." - Kurt Busiek, Eisner Award-winning writer of Astro City and Marvels

"Fantastic stuff... The author is truly at the top of his game here. Goddamitt, I want more." - The Founding Fields

"Explosive… an effective portrait of a bleak, confused, subdued city. Most impressibely, the novel becomes more unpredicatable as it goes along. Thrilling stuff. 4****" -  SFX Magazine
 
"Watch out for this Adam kid, he's nobody's sap. He's got a sharp nib and a sharper wit. He'd steal your last few hours before you could say 'cat's pajamas', and you'd thank him for it." - Billy Campbell, star of The Rocketeer
 
"Empire State is a fantastic piece of fiction, it's like one of those people that you just want to be seen with because they are so cool, radiating so much style, charm and charisma that if harnessed could power Hollywood for a century. 5*****" - SFBook.com
 
"Empire State is a big, blockbuster action book. It has images that will stick with you. Earlier in the week, I tweeted that I kept picturing an HBO TV series trailer as I read this book. That's what you're going to get." - Do Some Damage
 
"An exuberant homage to the superhero genre powered by a fabulous noir plot and wrapped up with a retro science fiction sensibility. It's effortlessly inventive and thoroughly entertaining." - Maura McHugh
 
"Rocket-powered superheros, Prohibition era bootleggers, private eyes, mysterious men in masks; and more twists and turns than you can imagine. All in all a very fun read." - The Dragon Page
 
"It has a private detective and tons of fog, superheroes, robots, moonshine, gas masks, guns and ironclads. What's not to love? And I know this is a monumentally shallow comment to make, but the cover art is stunning. Rad is a fabulous character, one that I won't forget any time soon. 4****" - Fantasy Nibbles
 
"A fast, likeable novel which aims not only to surprise, but frequently to confound - with intrigue, superheroic subversion, and a few robots playing into the mix! There's also an airship. I mean, who doesn't love airships?" - Drying Ink
 
"The written equivalent of crack cocaine. 10/10" - Spoiler Alert
 
"There are twists, turns, crosses and double-cross in this one. It has a delightfully pulpy feel to it, especially during the airship chase. It's almost here, and I think you'll find it worth the wait." - Adventures Fantastic

"This is simply one of the greatest science fiction books I have ever read.  9/10" - Starburst Magazine

"Verve and imagination abound in this accomplished debut."
- Christopher Fowler, The Fiancial Times (December 3, 2012)