Dead Harvest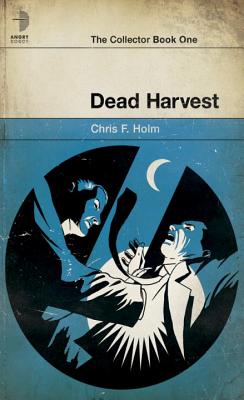 Dead Harvest
The Collector Book One
Angry Robot, Mass Market Paperbound, 9780857662187, 381pp.
Publication Date: February 28, 2012
* Individual store prices may vary.
Buy at Local Store
Enter your zip code below to purchase from an indie close to you.
or
Buy Here
Description
Meet Sam Thornton, Collector of Souls.
Sam's job is to collect the souls of the damned, and ensure their souls are dispatched to the appropriate destination.
But when he's dispatched to collect the soul of a young woman he believes to be innocent of the horrific crime that's doomed her to Hell, he says something no Collector has ever said before.
No.
File Under: Urban Fantasy Souled Out - Damned If You Don t - Collector Mania - On The Run ]
e-book ISBN: 978-0-85766-219-4.
About the Author
Chris F. Holm was born in Syracuse, New York, the grandson of a cop with a penchant for crime fiction. He wrote his first story at the age of six. It got him sent to the principal s office. Since then, his work has fared better, appearing in such publications as Ellery Queen s Mystery Magazine, Alfred Hitchcock s Mystery Magazine, Needle Magazine, Beat to a Pulp, and Thuglit. He s been a Derringer Award finalist and a Spinetingler Award winner, and he s also written a novel or two. He lives on the coast of Maine with his lovely wife and a noisy, noisy cat.
Praise For Dead Harvest…
"A war is brewing between angels and demons in this twisty, fast-paced, and thoroughly enjoyable urban fantasy debut... Sam is a likable antihero, pleasantly human despite being unquestionably damned, and the politics of Heaven and Hell provide plenty of material for sequels." - Publishers Weekly

"A very promising first novel." - Locus

"With a candid style that exhibits solid confidence and finesse, Chris Holm pulls readers in and pins us to the edge of our seats with a cleverly conceived story that is flawlessly executed." - NY Journal of Books

"Chris Holm's smooth writing style and rather charming characters (yes, Sam is charming, so there), made Dead Harvest a pleasure for me. 4.5/5 stars." - My Bookish Ways

"Dead Harvest does not feel like a debut. Chris F. Holm's writing is assured and the world building is outstanding... I completely enjoyed reading Dead Harvest with its unlikely anti-hero and world painted in shades of gray. The Collector series is on my must buy list." - The Qwillery

"The first book in The Collector series, is completely fresh and absolutely distracting. You won't be able to put it down, and you'll want a stiff drink and a smoke to go with it." - Sacramento Book Review

"...classic mix of deduction, ultra-violence, narrow escapes, shocking revelations, and sudden turns of fortune that make noir such a satisfying genre. Also, possessions, demons, seraphs, and lucky cat statues. Just fantastic enough to be entertaining, but not so unrealistic that it stretches the bounds of credulity." -Josh, In Order of Importance 

"A great protagonist, powerful bad guys (you have to love Bishop, the bad guy who can be anybody), pacing, tension and some really clever twists (the need for, and effects of, meatsuits is particularly cool) make this one of my favourite books."
-CheffoJeffo