Hang Wire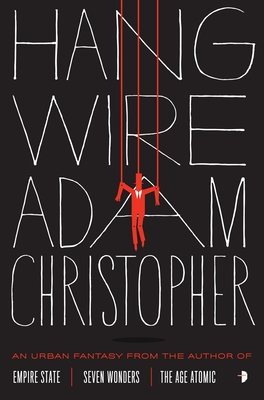 Hang Wire
Angry Robot, Paperback, 9780857663177, 373pp.
Publication Date: January 28, 2014
* Individual store prices may vary.
Buy at Local Store
Enter your zip code below to purchase from an indie close to you.
or
Buy Here
Description
Ted Hall is worried. He's been sleepwalking, and his somnambulant travels appear to coincide with murders by the notorious Hang Wire Killer.
Meanwhile, the circus has come to town, but the Celtic dancers are taking their pagan act a little too seriously, the manager of the Olde Worlde Funfair has started talking to his vintage machines, and the new acrobat's frequent absences are causing tension among the performers.
Out in the city there are other new arrivals immortals searching for an ancient power a primal evil which, if unopposed, could destroy the world
"File Under" Urban Fantasy Tensile Strength - Dual Identities - The Greatest Show - Bandits ]
About the Author
ADAM CHRISTOPHER is a novelist and comic writer. In 2010, as an editor, Christopher won a Sir Julius Vogel award, New Zealand s highest science fiction honor. His debut novel, Empire State, was SciFiNow s Book of the Year and a Financial Times Book of the Year for 2012. In 2013, he was nominated for the Sir Julius Vogel award for Best New Talent, with Empire State shortlisted for Best Novel. His other novels include Seven Wonders and The Age Atomic. Born in New Zealand, he has lived in the United Kingdom since 2006.
Praise For Hang Wire…
"Christopher fulfils our expectations and more: just when we think the story couldn't get any weirder, he adds a whole new layer of weird, bouncing from one unexpected moment of goofiness to another, keeping us stuck to our chairs until we think it'll take an industrial-strength solvent to pry us loose. Days after finishing the book, you'll still have a grin on your face."
-Booklist (Starred Review)

"Adam Christopher's debut novel is a noir, Philip K Dick-ish science fiction superhero story... a novel of surreal resonances, things that are like other things, plot turns that hearken to other plot turns. It's often fascinating, as captivating as a kaleidoscope... just feel it in all its weird glory."
-Cory Doctorow, author of Makers and Little Brother, on Empire State

"This is traditional heroism with a decidedly wicked and iconoclastic twist. Inventive, engaging, bewitching, and delightful, a feast as much for fans of the tropes as for the innocents amongst us."
-Greg Rucka, New York Times bestselling author of Alpha, The Punisher and Batman, on Seven Wonders